U6 Compact Wireless Mic System
High-fidelity, ultra-compact wireless audio system for DSLR/video cameras and smartphones
Transmitter can be either hidden or visible, with both clip and hook+loop mounting modes
Receiver has a shoe mount for connections to DSLR cameras; TRS to TRRS adapter included for connections to smartphones
Comes with transmitter, receiver, audio cable, dual USB charger cable, transmitter clip and hook+loop fasteners, furry windshield and carry pouch
Wireless audio for video doesn't get any easier than this. The U6 Compact Wireless Mic System sports a built-in microphone, fits in the palm of your hand, and sets up in seconds. And—for those who prefer a clean on-screen look—the transmitter can be hidden under your clothing! Combine this with high-fidelity 24-bit / 48 kHz audio and True Diversity wireless stability, and you have an instant sonic upgrade to all your video productions!
NOW YOU SEE IT…
The U6 was designed for versatility! You can wear the transmitter in four different ways: two visible and two hidden. If you want to show off your U6, use either the clip or the hook and loop fasteners to attach the transmitter on top of your clothing.
NOW YOU DON'T!
If you prefer a clean on-camera look, use the system's hook and loop fastener mode to hide the transmitter under a jacket or shirt—or simply use the clip and tuck the unit on the underside of your clothing.
MAKE CONNECTIONS
The U6 receiver is fitted with a shoe mount which allows it to sit comfortably atop your DSLR. The supplied audio cable sends the sound from the receiver to the camera. Just slide it in, plug it in and turn it on!
SMART SOLUTION
Connecting to a smartphone is also a breeze, provided you have any necessary adapter that bridges from a 1/8"/3.5 mm plug (the TRS to TRRS adapter, included with the U6) to your phone's input.
The receiver is so small and light that it can be mounted to the back of your phone (or a tripod) using the supplied hook and loop fasteners, or even a piece of tape.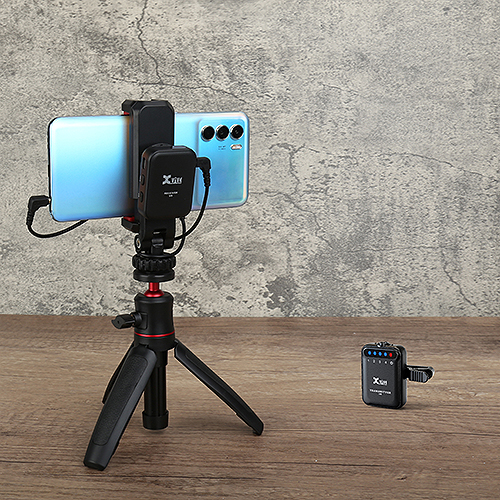 YOUR TRUE VOICE
Despite its small size, light weight, and low price, the U6 system doesn't scrimp on sound! The signal is high-resolution 24-bit / 48 kHz digital audio—with wide dynamic range, low noise, low distortion and a broad frequency response.
SEND A STRONG SIGNAL
U6 broadcasts a stable wireless signal on the 2.4 GHz band, over an astonishing 90-foot range. The system has four channels to choose from, and the True Diversity receiver has two antennas instead of one—ensuring a solid connection every time, even with other wireless devices in the area! The latency is imperceptible at only 5 ms, so your voice and your lips will always be in sync.
CHARGE AHEAD
Charging the U6 system is a breeze. Simply connect the included dual USB cable to any 5V USB power source, plug in the transmitter and receiver, and both will be charged in two hours. A full charge gives you four hours of uninterrupted wireless audio!
STICK TO IT
The hook and loop fasteners included with the U6 will last a long time—but if you do wear them out, you can restock with the H2 Hook and Loop Fasteners package. Includes 10 hook pieces and 40 loop pieces!