Single-Button Stompbox for Compelling Vocal Echo Effects
Product Features
Single-button stompbox gives you a range of stage-ready vocal echo effects in vintage to modern flavors

Timed repeats of your vocal add interest at just the right moment

13 wicked delay styles, including classic slap echo

Tap tempo control to keep your echoes right on the beat

Simple 3-knob interface gets you up and running in seconds

High-quality, low-noise mic preamp for pristine vocals

On/off foot switch for quick performance control

Analog button for an optional filtered echo sound from the days of tape recording

Allows chaining to other VOICETONE SINGLES vocal processors or DITTO MIC LOOPER to expand creative possibilities

Compatible with remote Mic Control using the TC Helicon MP-75 microphone

Rugged, road-worthy construction for years of dependable use

Power supply included

3-Year Warranty Program*

Designed and engineered in Canada
Enter the Echo Universe
VOICETONE E1 offers singers the signature echo and slapback effects that evoke classic songs, while putting effects control at their feet. High quality, immersive echo effects for the stage are no longer just for guitarists.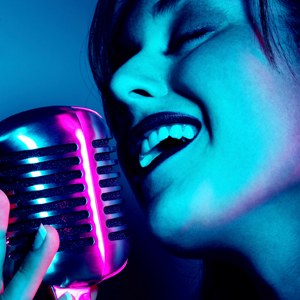 Packed with Vintage to Modern Features
Not only are there 13 different echo and delay types, but you can control the length of repeats, set the echo times to your song's tempo, turn on the analog button for a vintage feel – or jump into the future with special effects to dramatically twist your tune.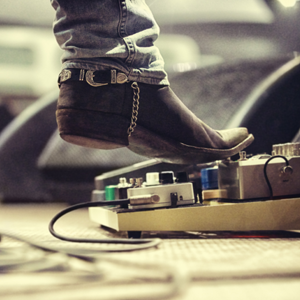 It's Just this Simple...
Plug in your mic, plug your pedal into the mixer & set the gain
Turn on the effect
(That's it)
Of course, you can always change the style or the amount of correction, but you shouldn't need the manual – unless you're making a fire!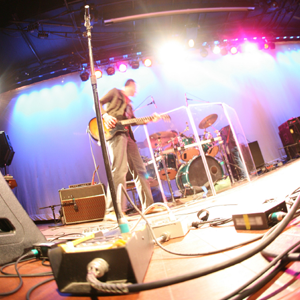 Chain It
You can chain VOICETONE E1 to all of the other VOICETONE singles, mixing and matching effects to define your personal sound. It also works with DITTO MIC LOOPER, the pure looping pedal for singers and instrumentalists. Use the Singles Connect Kit (available separately) to mix and match up to 4 TC HELICON vocal effect pedals together conveniently, simply – and with less cable clutter than
ever before.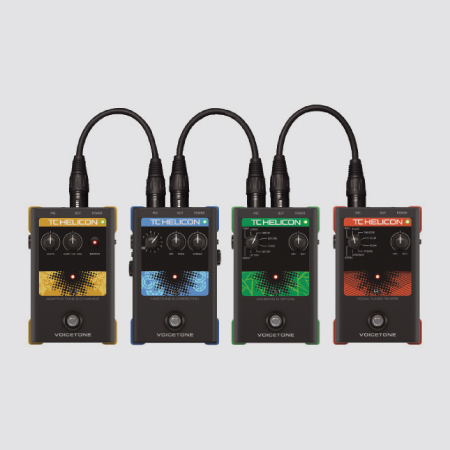 Under The Hood
Beneath VOICETONE E1's sturdy, die-cast metal case, you'll be getting the same quality processing you've come to expect from our flagship VoiceLive® vocal processors. You'll also find a clean, quiet mic preamp that rivals high-end touring mixers, plus studio-quality analog to digital conversion. There's even a USB connection for firmware updates.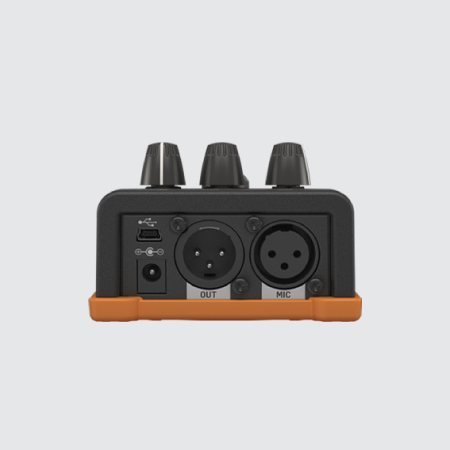 Signature Echoes & Slapbacks
13 wicked delay styles including slapback/flutter echoes, non-tempo matched echoes, timed echo styles and special FX echoes
Control the length of your repeats and precisely control echo level
Analog button for softer echo sound from the days of tape recording
Footswitch tapping matches echo repeats to your song's tempo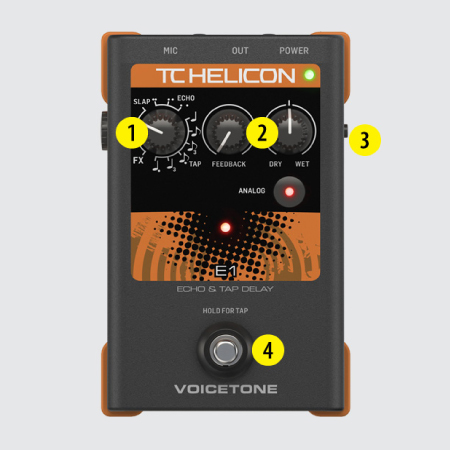 More Mic, More Control
You can completely control VOICETONE E1 from your mic – simply plug in a TC HELICON MP-75 microphone or Sennheiser e835 FX (both sold separately). We call it Mic Control™, and it allows you to command both the stage – and the audience!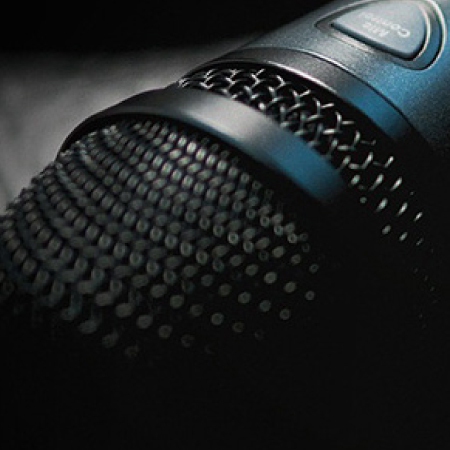 Specification
Design
Size
Height: 5.4 inches (140 mm)
Width: 3.5 inches (90 mm)
Depth: 2.3 inches (60 mm)
Weight
Weight: 0.92 lb. (0.42 kg)
Construction
Two part dies cast metal
Rubberized base
Connections
Analog Inputs
Connectors, balanced: Mic.: XLR
Mic Input Level @ 0 dBFS: -42dBu to +1dBu
EIN @ Max Mic Gain Rg = 150 Ohm: -126 dBu
Mic input SNR: >104 dB
Phantom Power: 24V (always on)
Analog Outputs
Output Impedance, Bal./Unbal.: 200/100 Ohm
Output Full Scale: +1 dBu
Dynamic Range: >104 dB, 20 Hz to 20 kHz
Frequency Response: +0/-0.3 dB, 20 Hz to 20 kHz
Control
USB for firmware and control
Mic Control using TC Helicon MP-75
Safety And Regulations
Power
Power Supply (Supplied): 12V / 400mA
Power Consumption: 5.6W
Safety
EMC – Complies with EN 55103-1 and EN 55103-2 FCC part 15, Class B, CISPR 22, Class B
Safety – certified to IEC 65, EN 60065, UL6500 and CSA IEC 65, EN 60065, UL6500 and CSA
Environment
Operating Temperature: 32°F to 122°F (0°C to 50°C)
Storage Temperature: -22°F to 167°F (-30°C to 70°C)
Humidity: Max. 90 % non-condensing
What's in the box?
Region specific power supply
USB cable
User guide