3-Button Vocal Effects Stompbox with Looping
Product Features
Compact 3-button vocal multi-effects stompbox with looping makes it easy to have professional sound
Quickly create pro studio quality vocals with a suite of production-caliber vocal effects
VLOOP performance looper with undo/redo and unlimited overdubs
RoomSense mics automatically control harmony, no music theory required
Powerful HIT function for punching on multiple effects with a single button press
Aux input with Vocal Cancel lets you plug in an MP3 player and sing with your favorite music
200+ song- and artist-inspired presets, with hundreds more presets available online
Practice function with statistics collection and real-time pitch display gives you valuable feedback on your singing
Adaptive Tone for perfect EQ, compression, de-essing and gating
USB for streaming audio, preset downloads and firmware updates
Compatible with remote Mic Control using the TC Helicon MP-75 or MP-76 microphones
Optional SWITCH-3 foot switch for extended performance control
3-Year Warranty Program*
Designed and engineered in Canada
A Produced Vocal Tone - Anywhere
Producers spend more time on perfecting vocals than any other instrument; the number of layered vocal tracks on a studio recording often run well into the double-digits. VOICELIVE PLAY makes this studio magic available to every singer - everywhere.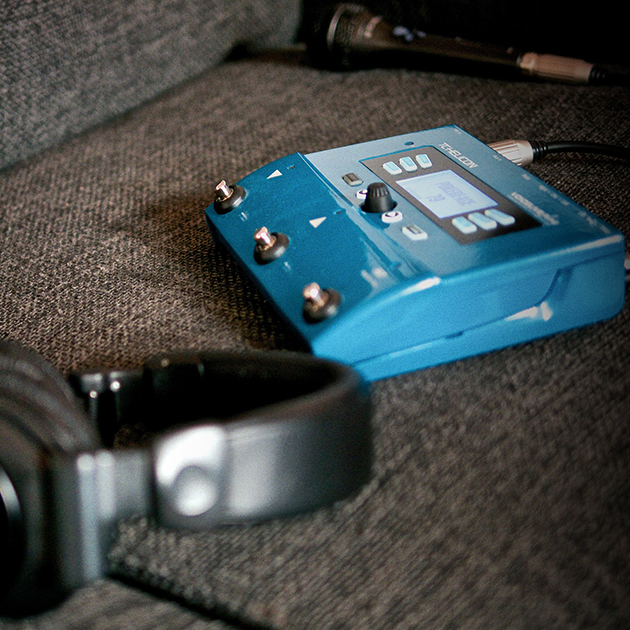 The Vocal Sounds You Love
Automatic backing harmonies, vocal double tracking, pristine EQ and compression, lush reverbs, hard-tuned robo-voice – all the goose-bump effects that make today's Billboard hit vocals truly stand out are yours.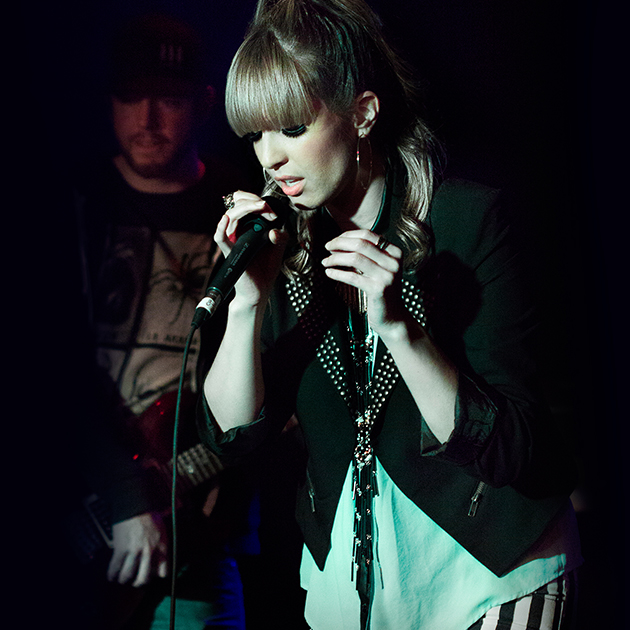 Hit Performances & Attractive Practice
The HIT feature gives you total control to punch in a stunning harmony or other effects precisely when it's right for your song. When you're not on stage, plug in your MP3, choose "Vocal Cancel" and practice with your favorite tracks – complete with statistics on your voice.
The Complete Vocal FX Pedal
Access your effects directly, choose the presets you want and find the styles you like.
Easily browse hundreds of preset sounds.
Add dazzling effects for the chorus, or strip it down for the verse, you decide!
Dedicated outputs for your voice – plus inputs for head phones, auxiliary devices, an expansion pedal and USB for updates and new presets.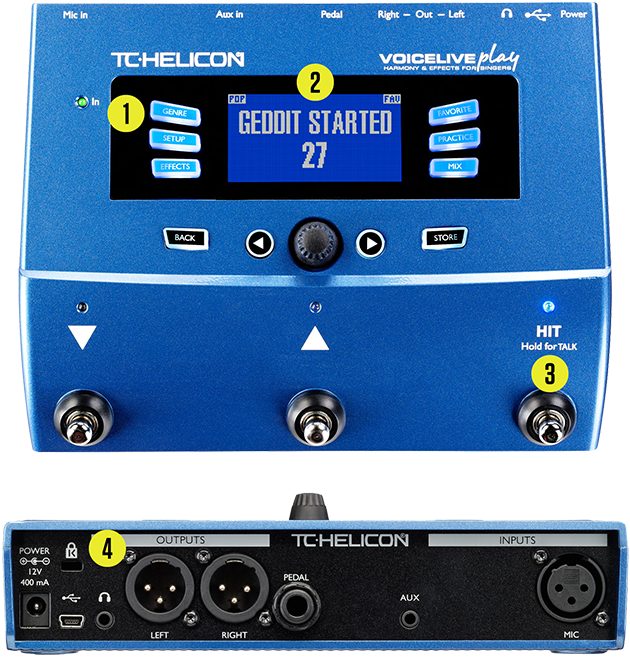 Watch It Work
Get ready for a hit performance with the effects you want and features such as Genre, Looping, Effect Editing, Practice Mode, RoomSense, Harmony and more. Product specialist Tom Lang takes you for a tour in this video...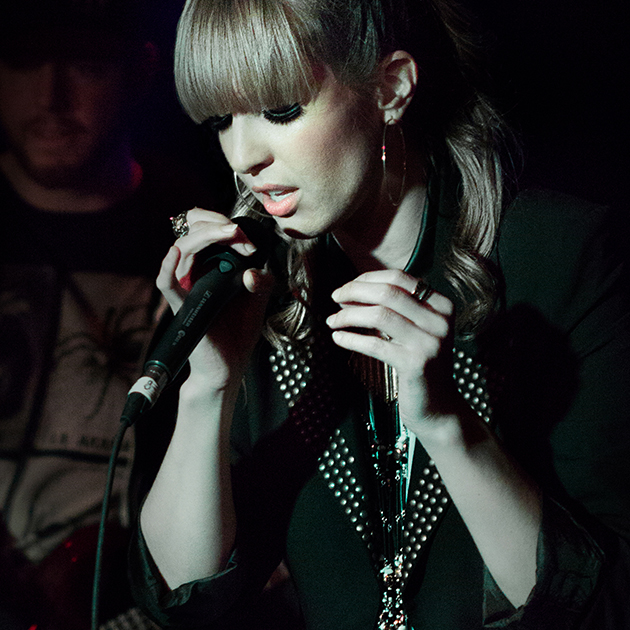 Vocal FX Highlights
Quick & easy access to Hundreds of effects presets
Total Harmony control
Create your own custom sounds
Adaptive Tone = your personal sound engineer
VLOOP performance looper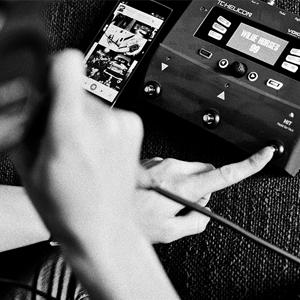 µMod
µMod, pronounced "micro mod" contains effects that chorus, flange or otherwise modulate the signal. These effects can range from subtle to extreme.

Delay
Also known as Echo, delay repeats the input sound in various ways, from single "taps" to multiple panned asynchronous repeats. Often, delay is mistaken for reverb in a song. It's typical in a recording to use a small amount of both delay and reverb to create the desired spatial effect.

Reverb
Short for Reverberation, reverb simulates an acoustic space like a concert hall or a bathroom. Typically, slower songs use longer reverb and faster songs use shorter reverb.

Harmony
Likely the most popular and impressive of our effects suite, Harmony creates up to 8 voices of harmony (varies by product), based on your vocal input and surrounds you with professional sounding backup singers. Once you've added harmony to your performance, we think you'll never want to sing without it.

Double
Doubling creates an effect that makes your voice sound "larger" in the mix. It's an extremely popular effect in a wide variety of musical styles from Pop to Hip-Hop and everything in between.

HardTune
Some people know it as the Cher or T-Pain effect. We call it HardTune. It's a very aggressive form of pitch correction that forces the voice to "jump" from one note to the next in an almost robotic way. The effect works the best when confined to a set scale, where the intervals between notes are more noticeable. To get the most out of the effect, you'll need to adapt your singing style to help accentuate the way that your voice shifts from note to note. Try sliding between notes.

Transducer
Any effect that provides overdrive, distortion or filter falls under Transducer effects. You'll find effects like Megaphone, Radio, Amplifier Emulation and more here. Always take care when using transducer effects in a live situation. Due to the extreme gains and eq's imparted on the signal, these effects are very prone to feedback.

Total Harmony Control
Never worry about your key when selecting harmonies. VoiceLive Play actually listens to your MP3 player (via AUX link) or your computer (via USB). And our embedded RoomSenseTM mics can control your harmonies simply from the sounds of nearby instruments.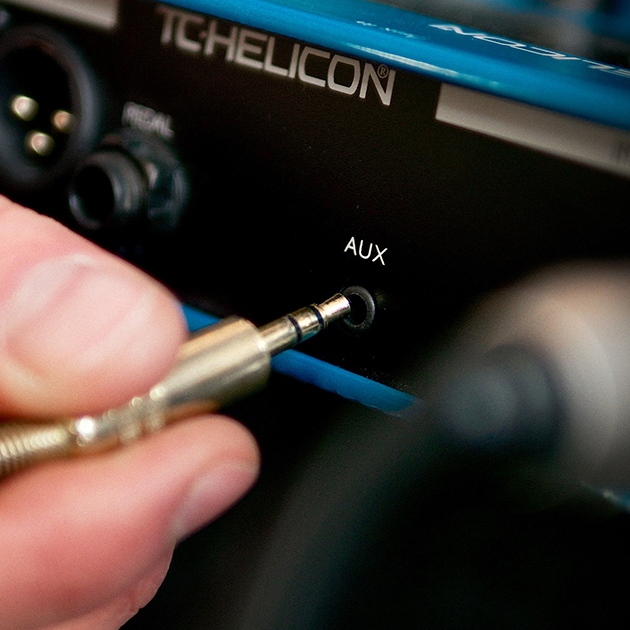 Dial in Your Custom Sound
When you choose an effect you'll immediately see a unique icon making it easier to quickly find the sound you're looking for. We call it icon based editing - it's intuitive and simple to use. You easily move through screens, pick your style, tweak some parameters and, voila, you now have your own vocal sound which you can recall any time.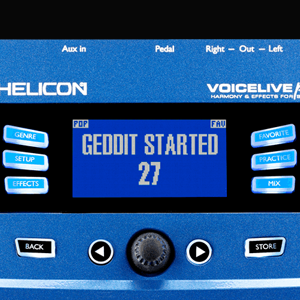 Transform Your Singing with Loops
The VLOOP performance looper allows you to create vocal loops for solo jamming or impressive layered live performances. VLOOP is also handy for soundcheck: record a short phrase and walk out into the audience to check levels while your "virtual you" plays!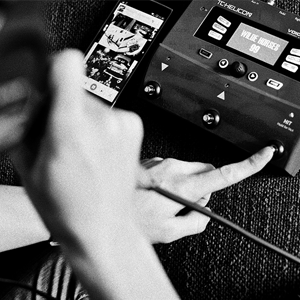 Your Personal Engineer - Adaptive Tone
Adaptive Tone technology intelligently controls Shape EQ and Dynamics (Compression & De-ess) to provide the perfect tonal balance and add smooth dynamic control to fit in any mix. Best of all it's easy: just set and forget. An adaptive gate can also be added to help suppress feedback and reduce bleed.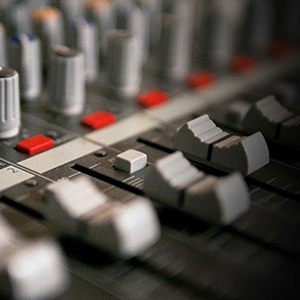 RoomSense Mics
Embedded stereo RoomSense mics can control your harmonies from instruments nearby, replace the cabled mic for headphone practice or add a bit of room ambiance to your headphone mix.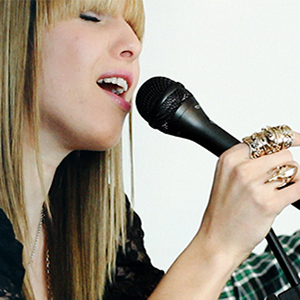 More Mic, More Control
Now you can control your FX from a mic engineered for the sonic realities of modern vocal performance. Add the TC Helicon MP-75, or the Sennheiser e835 FX.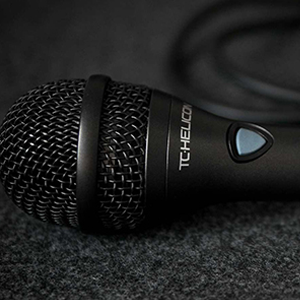 Extend FX Control with Stompbox Expansion
Add a Switch-3 accessory pedal to your setup to extend your on-the-fly control of VoiceLive Play's features. Put Delay on the first switch, your favorite Harmony on the second, and a Scale/Key shortcut on the third – or any custom combination of Vocal FX - or even Looping.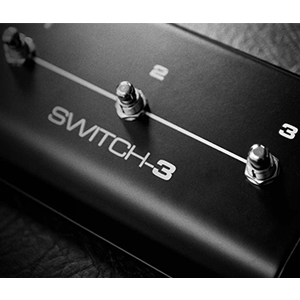 VoiceSupport
VoiceLive Play will evolve with you - VoiceSupport gives you new FX presets, new firmware updates, and maintains your personal database of presets. All you need is a Mac or Windows computer with a USB input.