Unrivaled Vocal and Guitar Effects Performance Floor Pedal with Backing Tracks, Looping, Automation and Audio Recording
Product Features
Unrivaled vocal and guitar effects performance floor pedal with backing tracks, looping, automation and audio recording

Quickly create pro studio quality vocals with an extensive suite of production-grade vocal effects

Integrated guitar multi-effects with TC Electronic TonePrint styles and amplifier modeling

Prepare every nuance of your sound profile in advance to perform on stage with backing track playback and effortless automated effect changes

Multi-track looper for song creation with massive onboard storage and LoopAssist plus MIDI Sync to intelligently tighten loops

Record your guitar, vocals and effects directly to USB key via the onboard stereo audio recorder

Adaptive Tone for perfect EQ, compression, de-essing and gating

Hundreds of downloadable presets plus 250 included factory presets to fit your musical style

Dedicated outputs for stereo PA, stereo guitar and monitoring

Independent headphone mix for in-ear monitoring

Unique guitar/headphone combo cable included

3-layered customizable footswitch assignment to suit your personal performance needs

3-Year Warranty Program*

Designed and engineered in Canada
Features
> NEW! Backing track import with FX automation for "tap-dance free" performances, synchronized to tracks
> NEW! Performance recorder for live direct 24-bit audio, output to a USB flash drive
> A complete vocal sound with next generation harmony processing, effects and tonal quality
> Complete guitar sound via TC Electronic stomp box effects, Amp Tones and flexible outputs to your amp or PA
> Powerful 3-phrase looping lets you create and store entire songs on-the-fly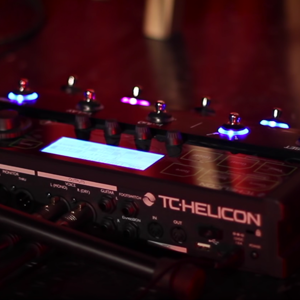 Your Voice: Front & Center
With a mind-blowing vocal FX path featuring 11 independent effects blocks, over 180 different pre-programmed styles and more than 250 factory presets available right out of the box (and more available for free download), VL3X represents the absolute pinnacle of singers' technology and is the perfect partner for your voice.
No Compromise Guitar FX & Amp Tones
The guitar section of VL3X puts a premium stomp box collection at your feet – with rich tones from legendary FX makers TC Electronic – plus 30 amp emulations that can be customized far beyond belief. Together they make up an unbeatable piece of guitar road-kit.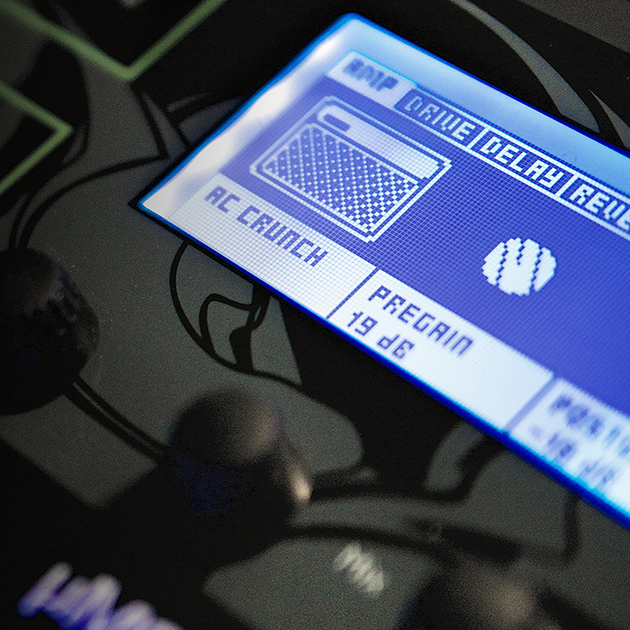 Building Better Songs with Loops
Featuring 4 times the storage of VoiceLive 3, VL3X enables you to store every loop snippet or idea you have,
allowing you to experiment with real-time song creation and exciting loop jams right until you drop. The smart LoopAssist™ and metronome functions help you to make tighter loops effortlessly and auto-expand allowing for different loop lengths.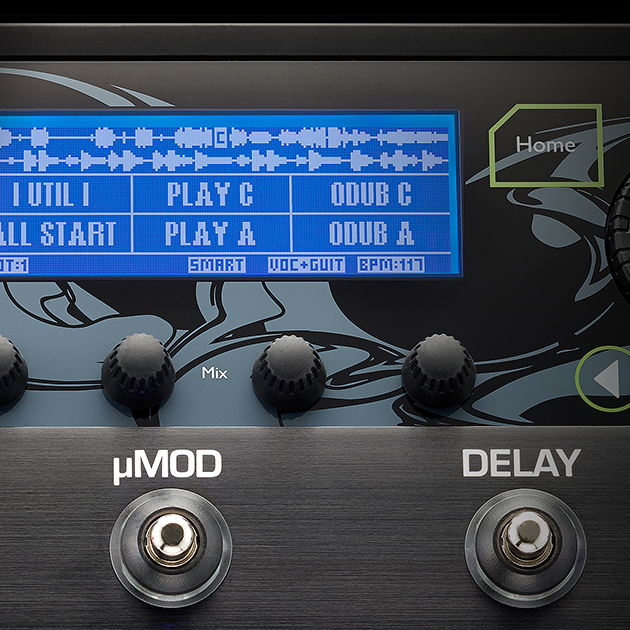 Dedicated Vocal PA and Guitar Out
What makes VL3X an incredibly flexible performance system is the dedicated stereo vocal and stereo guitar amp outputs. Send your guitar sound directly to your favorite amp completely independent of the vocal output going to the PA – it even works when you're looping.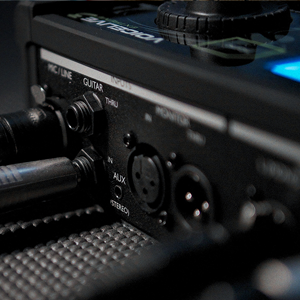 Endless Possibilities
Intuitive display - see your settings at a glance.
Stompbox-style access to FX and controls
Vocal, Guitar and Looping indicator colours (with back image)
All the I/Os you need - including dedicated vocal PA and Guitar Out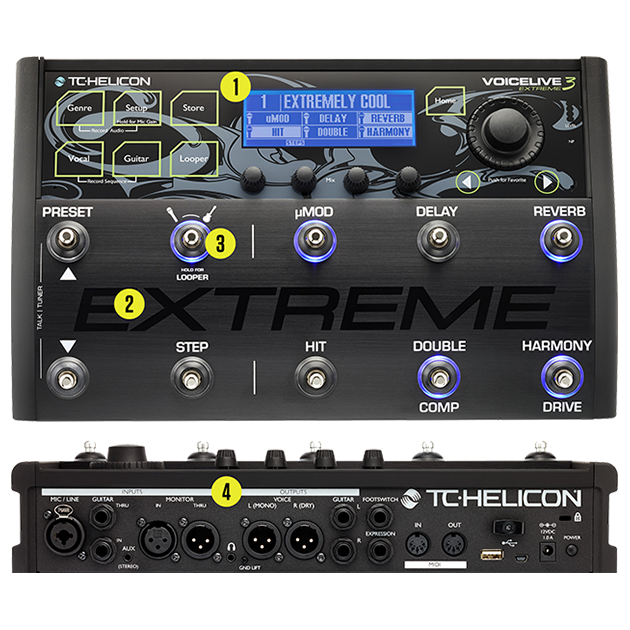 TC Helicon's Most Comprehensive Vocal FX Suite
It's all here: Doubling, Harmony, Echo, Reverb, HardTune, Flanger, Chopper, Choir and more. But it's here with a difference: with upgrades, new modes and new harmony options. Watch Tom Lang show off what the VoiceLive 3 platform can do...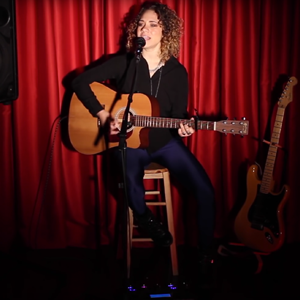 Vocal FX Highlights
Upgraded & expanded suite of our renowned vocal effects
New Harmony sounds – Pedal, Fixed, and Mixed Mode
New Vocoder with Voice Controlled Synth and Robot Modes
Adaptive Tone for a truly professional, produced sound
HIT button to create FX impact
VoiceSupport app for downloading & managing more presets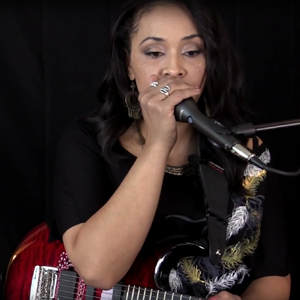 Guitar FX Highlights
> TC Electronic TonePrint™ FX Styles & Great Tone Classics
> New Talk Box, Rhythmic, Octaver, Wah and Compressor
> Convenient preset FX styles OR customize at will
> Acoustic guitar styles with BodyRezTM shapes
> Guitar chords automatically guide Harmony & more
> Fast & accurate guitar tuner
> HIT button to turn on multiple FX
Creativity Amplified
What can you change in the guitar and amp presets? Here's an example: The Amp effect not only simulates physical amplifiers, but also provides controls for EQ, Gain, Tube/Transistor simulation and speaker emulation. The level of EQ control in the Amp block is huge, providing controls for both the pre-gain and post-gain stage parametric EQ – something that most real-world amplifiers don't offer. We're talking about crazy deep customization —same goes for all of the guitar effects. Don't be ashamed of your sonic obsessions. They can all come true.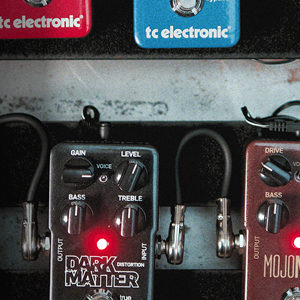 BodyRez for Acoustic Guitar
More of an acoustic player? VL3X will optimize the sound of an electro-acoustic guitar with ground-breaking BodyRez™. Carefully placed filters and fast acting compression combine to reduce "piezo-quack", making your amplified guitar sound like the beautiful full-bodied instrument it is. Dial in as much or as little BodyRez as you need and use the handy EQ controls to fine-tune the dynamics of your sound.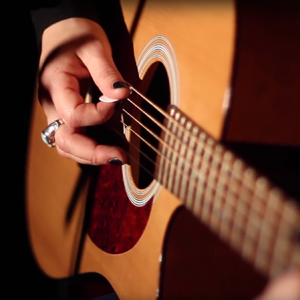 Guitar & Headphone Cable
VL3X comes with a specially designed combination Guitar & Headphone Cable too! This is a revelation if you use in ear headphones because it combines your guitar and headphone lines into one slim cable so you have ample freedom to move while you groove.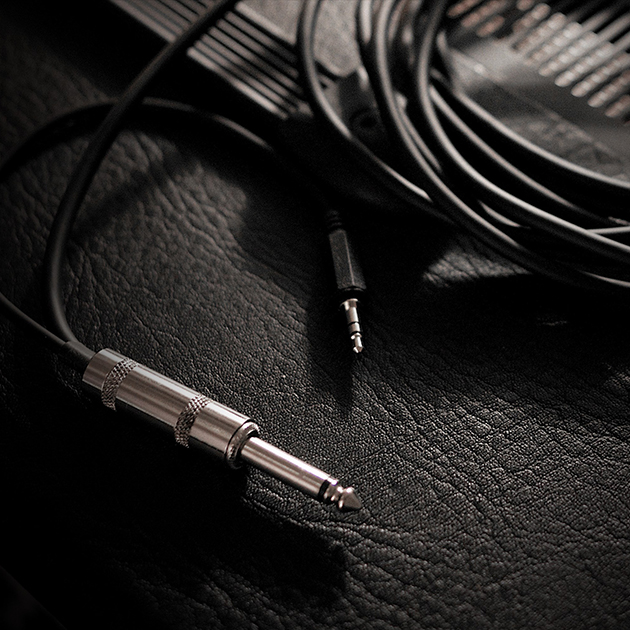 Looping Highlights
Powerful multi-track looper with intuitive control layout and infinite overdubs
3-phrase looping with selectable layering and serial techniques
LoopAssist™ with smart metronome, quantize and MIDI Sync for perfectly synced loops
Auto expansion of loop length allows you to create long loops on top of short ones and vice versa
50 loop slots store up to 3 loops of 8 minutes each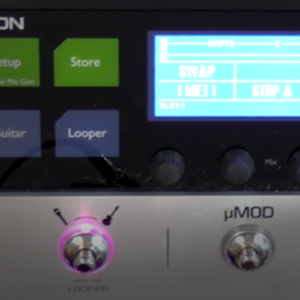 Endless Styles & Genres
The GENRE feature allows you to easily browse hundreds of presets by style, effects type and artists. Choose a genre that suits you and VL3X will list the presets that match your preference — perfect for when you're looking for that specific sound or need inspiration.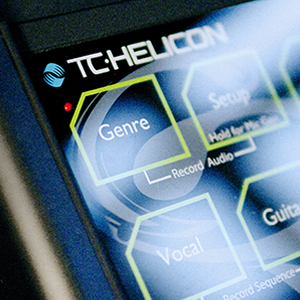 Specification
Included Effects
Vocal Effects

µMod
Echo & Delay
Reverb
Harmony
Double
Transducer
Rhythmic
HardTune & Correction
Vocoder
Adaptive Tone

Guitar FX

Amp Modeling
Drive
Delay
Reverb
Compression
Resonant Filter
Wah
µMod (Flange, Chorus, De-tune)
Talkbox (part of Vocoder)

Control

250 factory presets
Memory for 500 presets
10 steps per preset
10 footswitches
6 preset-assignable footswitches for enabling/disabling FX blocks
Backing track & FX automation control via footswitches
Detailed editing
Genre and Styles preset categories
Width: 13.8 inches (350 mm)
Depth: 8.5 inches (216 mm)
Design
Size

Height: 3 inches (76 mm)
Width: 13.8 inches (350 mm)
Depth: 8.5 inches (216 mm)

Weight

Weight: 5 lb. (2.3 kg)

Construction

Anodized extruded aluminum and steel chassis
Rubberized edit/mix knobs
Recessed rubberized handle
192 x 64 Blue STN LCD, White Back light display
Tri-colored Footswitch Light ring
Capacitive touch edit controls with LED indicators
Connections
Analog InputsP0CMD


MIDI: In/Out: 5 Pin DIN
Pedal: 1/4″ TRS phone jack
Mic Control using TC Helicon MP-75 Microphone or Sennheiser e 835 fx mic
Safety And Regulations
Power

External Power Supply Mains Voltage: 100 to 240 VAC, 50 to 60 Hz (auto-select)
Power Consumption: < 14 W

Safety

EMC – Complies with: EN 55103-1:2009, EN 55103-2:2009, FCC CFR 47 Part 15B and ICES-003:2004 4th Ed
Safety – certified to: IEC 65, EN 60065, UL6500 and CSA IEC 65, EN 60065, UL6500 and CSA

Environment

Operating Temperature: 32° F to 122° F (0° C to 50° C)
Storage Temperature: -22° F to 167° F (-30° C to 70° C)
Humidity: Max. 90 % non-condensing

What's in the box?

Region specific power supply
USB cable
Quickstart guide
Guitar/Headphone combo cable