60 Watt 2-Channel Acoustic Amplifier with Vocal Processing, Looper, Tannoy Dual Concentric Speaker, Top Firing Tweeter and 4-Button Footswitch
Product Features
60 Watt 2-channel acoustic amplifier with amazing vocal processing

8" Tannoy Dual-Concentric speaker and an exclusive Top-Firing tweeter provide massive crystal clear audio to you AND your audience

4-button customizable footswitch to control looper, harmony and effects included

Voice channel with Adaptive Tone, Intelligent Anti-feedback, Pitch Correction, Harmony, Reverb and Delay

Guitar channel with BodyRez, Intelligent Anti-feedback, Tuner, Reverb, Delay, Chorus and 3 band EQ

Built-in looper for practicing, developing ideas and enhancing live performances

Harmony function automatically creates up to 2 voices of smooth and accurate vocal harmonies

BodyRez restores natural tone to acoustic guitars when using piezo under-saddle pickups

Intelligent anti-feedback on each channel automatically stops feedback

Accurate integrated chromatic tuner with mute function

Dual XLR DI jacks with flexible routing for complete control of your sound

USB output for direct recording to a computer allows easy capture

Dedicated Aux input for playback of MP3 players, drum machines, etc

3-Year Warranty Program*.

Designed and engineered in Canada
All in one performance companion
The Harmony V60 Acoustic Amplifier is crammed full of features and innovations that can help you weave intricate, evolving sounds at home or in clubs and halls. Maximize your audio potential to capture attention and hold it with an array of fascinating vocal and guitar effects and looping in an easy-to-carry processor and amplifier system.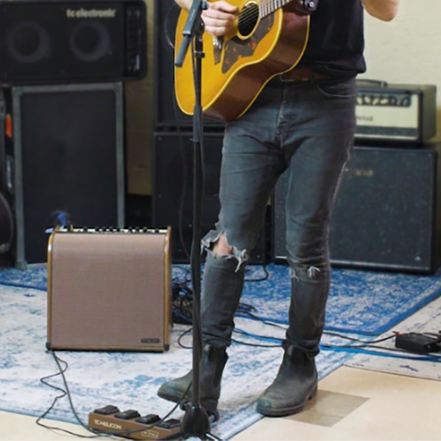 Immersive Guitar sound
Leave your pedals at home. A suite of sweet guitar effects that would normally require a large pedal board is included. There's a fast, accurate Tuner, BodyRez to improve the feel and tone of your undersaddle pickup, 3 band EQ and separate Chorus, Reverb and Echo with their own styles and mix controls. All you add is a guitar and your groove.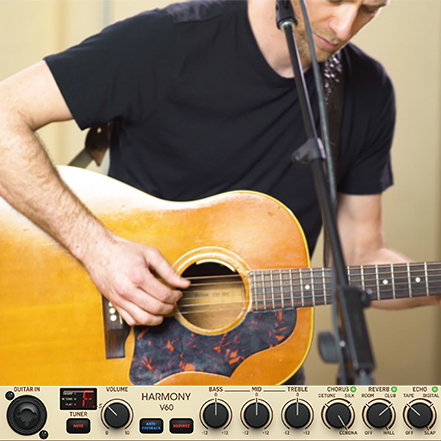 Stunning Vocals
Everybody knows the main link to an audience is vocals and TC Helicon's studio-quality vocal processing lets your voice shine. With Adaptive Tone for instant "producer polish", transparent pitch correction, two additional virtual Harmony voices and the lush expansiveness of Reverb and Echo, your voice will excite like never before.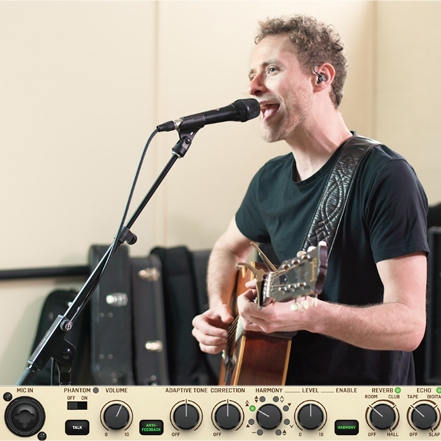 Room filling guitar and vocals
60 Watts of Class D bi-amplification provided by separate amps for the lows and highs ensures powerful, precise sound. The 8" dual concentric speaker (woofer and tweeter in one) by legendary brand Tannoy projects a point source sound wave for the widest possible listening field while keeping the speaker's enclosure compact.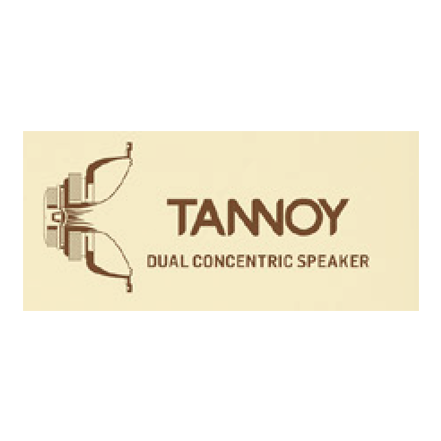 Hear yourself better
When you turn on Harmony V60's additional top-firing tweeter, an exclusive innovation from TC Helicon, you'll finally get to hear more of what your audience hears. No more muffled sound or putting the amp on a chair, now you get an exciting sound standing beside, in front or behind your Harmony V60.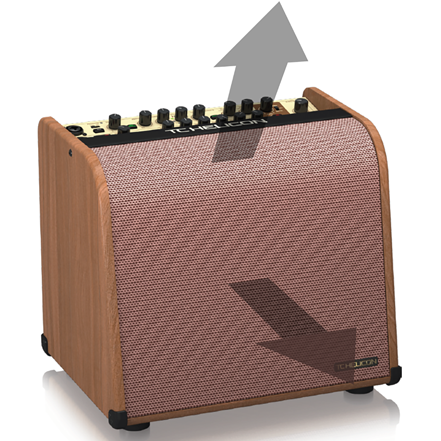 Fast-acting automatic anti-feedback
The Harmony V60 acts automatically to minimize screeching and howl for the Vocal and Guitar channels respectively. You get to continue playing and singing instead of switching and dialing EQ controls when feedback happens.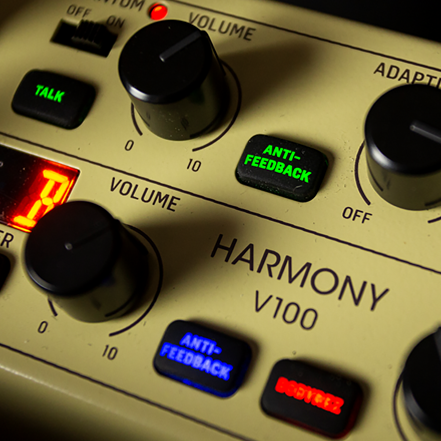 Multiply yourself
Within seconds you can build a sound greater than the sum of its parts with the 90 second looper and its unlimited overdubs. Looper input can be Voice, Guitar or both and your loop length automatically sets tap tempo so echoes play nicely in time. Imagine each overdub with a different, tasty effect!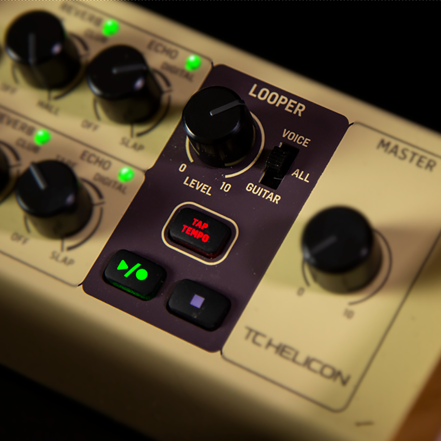 And the footswitch is included!
Looping, vocal processing and guitar effects can all be controlled by the rugged 4 button footswitch that comes with Harmony V60. A default mapping of footswitches to effects is provided but customization is easy and fast if you want quick footswitch access to the Tuner for example.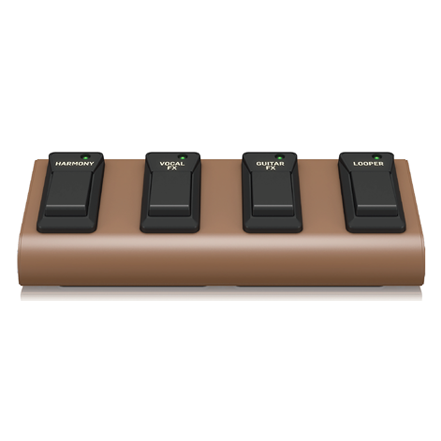 Comfortable on the big stage or your laptop
Dry and effected XLR or USB outputs offer mixing and tracking versatility for front of house mixer or when you want to record. These can also be used either in a single stereo pair or individual mono channels.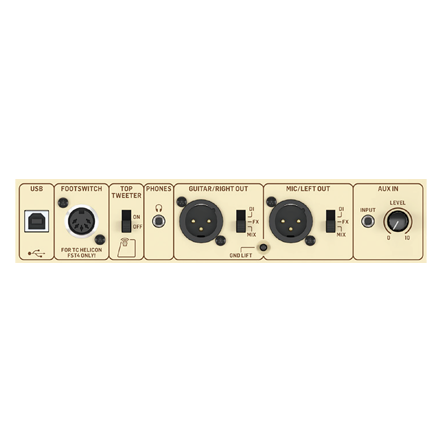 Guitar Highlights:
Chromatic Tuner
Auto Anti-Feedback
Body-rez acoustic resonance enhancer
Bass, Mid and Treble EQ controls
Three types of Chorus
Room, Club and Hall Reverb Styles
Tape, Digital and Slap Echo Styles with Tap Tempo
Vocal Highlights
Adaptive Tone - your personal sound engineer
Auto Anti-Feedback
Chromatic Pitch Correction
Up to two voices of guitar controlled vocal Harmony
Room, Club and Hall Reverb Styles
Tape, Digital and Slap Echo Styles with Tap Tempo
Looper
1.5 minutes loop time
Unlimited overdub
Input can be set to guitar only, vocal only or all
Loop time sets Echo tempo (except Slap Echo style)
Silent erase with Stop switch (programmable to footswitches)
Specification
Audio inputs
| | |
| --- | --- |
| Guitar input | ¼" TRS balanced/XLR combo |
| Input impedance | 2 MΩ balanced/1 MΩ unbalanced |
| Microphone input | ¼ " TRS balanced/XLR combo |
| Input impedance | XLR: 2.9kΩ balanced; ¼" 10kΩ TRS balanced/5k TS unbalanced |
| Aux input | 3.5 mm TRS stereo |
| Input impedance | |
Audio outputs
| | |
| --- | --- |
| Guitar/right out and Mic/left out | XLR balanced, female |
| Output impedance | 400 Ω |
| Max. output level | 0 dBu |
| Switches | DI, FX, Mix |
| Headphones out | 3.5 mm TRS stereo |
| Output impedance | 10 Ω |
| Max. output leve | 8 dBu |
Vocal section controls
| | |
| --- | --- |
| Knobs | Volume (1 to 10) Adaptive tone (off to max) Correction (off to max) Harmony selector, 8 position Harmony level (0 to 10) Reverb (off, room, club, hall) Echo (off, tape, digital, slap) |
| Switches | Phantom on/off Talk on/off Anti-feedback on/off Harmony enable/disable |
| LEDs | Phantom (red), Reverb (green), Echo (green), Harmony voice (green, 8 selections) |
| Backlit switches | Talk (green), anti-feedback (green, or blue when operating), harmony (green) |
Guitar section controls
| | |
| --- | --- |
| Knobs | Volume (0 to 10) Bass, shelving (-12 to 12 dB) Mid, peaking (-12 to 12 dB) Treble, shelving (-12 to 12 dB) Chorus (detune, silk, corona) Reverb (off, room, club, hall) Echo (off, tape, digital, slap) |
| Switches | Echo (off, tape, digital, slap) Switches Mute on/off Anti-feedback on/off Bodyrez off, Bodyrez-1, Bodyrez-2 Bodyrez-3 Harmony enable/disable |
| Display | Tuner note 8-segment, red |
| LEDs | Chorus (green), reverb (green), echo (green) Tuner sharp/flat/in-tune (red) |
| Backlit switches | Mute (red), anti-feedback (green, or blue when operating), bodyrez (red, green, blue selections) |
Footswitchable controls
| | |
| --- | --- |
| Microphone Section | Talk on/off Harmony on/off at the current setting Reverb on/off Echo on/of |
| Guitar section | Mute on/off Chorus on/off Reverb on/off Echo on/off Harmony on/off at a selected setting |
| Looper section | Tap Tempo Play/record Stop |
| LEDs | Green when footswitch engaged, red when recording |
Looper controls
| | |
| --- | --- |
| Knobs | Level (0 to 10) |
| Switches | Voice/all/guitar Tap tempo  Play/record Stop |
| Backlit switches | Tap tempo (flash red at tempo), play/record (green play, red record), stop (red) |
Rear panel section
| | |
| --- | --- |
| Connections | AC input IEC, USB B type Foot switch, 5-pin DIN (for FST4 only) Guitar/right out, XLR male Mic/left out, XLR male Aux in, 3.5 mm |
| Switches | AC power on/off toggle Top tweeter on/off Guitar/right out, DI/FX/MIX selector Mic/left out, DI/FX/MIX selector Ground lift, XLR audio |
| Knobs | Aux input level (0-10) |
USB
| | |
| --- | --- |
| Type | Class compliant USB 2.0, type B |
| Supported Operating Systems | Windows 7 or higher Mac OS X 10.6.8 or higher |
| Windows driver | Required driver is supplied |
| Audio input and output | 2 channels, 24 bit, 48kHz |
Amplifier
| | |
| --- | --- |
| Output power | 80 W |
| Type | Class- D |
| Protection | Short circuit, thermal |
Loudspeakers
| | |
| --- | --- |
| Type | 8" dual-concentric, Tannoy |
| Impedance | 4 Ω |
| Power handling | 240 W |
| Top tweeter (switchable on/off) | 1" |
| Impedance | 4 Ω |
| Overall frequency response | 90 Hz - 20 kHz (+/- 3 dB) 60 Hz - 24 kHz (- 10 dB) |
| Maximum SPL | 115 dbSPL |
Footswitch (supplied) (any switch can operate any footswitchable control)
| | |
| --- | --- |
| Type | FST4 |
| Switches | Harmony on/off (with LED) Vocal FX on/off (with LED) Guitar FX on/off (with LED) Looper on/off (with LED) |
Power Supply
| | |
| --- | --- |
| Mains Voltage | 100-240 V~ 50/60 Hz |
| Power consumption | 35 W |
| Mains connection | Standard IEC receptacle |
| Power Switch | Rocker, rear pane |
Dimensions/Weight
| | |
| --- | --- |
| Dimensions (H x W x D) | 333 x 383 x 287 mm (13.1 x 15.1 x 11.3") |
| Weight | 11.2 kg (24.6 lbs) |