Easy to Use Two-Button Looper Pedal for Vocals and Acoustic Instruments
Product Features
Simple two-button stompbox for vocal and acoustic instrument looping with unlimited overdub
Dedicated stop switch gives precise control for record/play/overdub loop creation
Versatile looper with superior audio quality, undo/redo, and unlimited overdubs
Intelligent mic input gain for quick and painless setup
Allows chaining to other TC Helicon vocal processors like HARMONY SINGER or MIC MECHANIC to expand creative possibilities
High-quality, low-noise mic preamp for pristine vocals
Compatible with remote Mic Control using the TC Helicon MP-75 or Sennheiser* e835 FX microphones
Studio grade high-fidelity 24-bit uncompressed audio
Rugged, road-worthy construction for years of dependable use
Power supply included
3-Year Warranty Program*
Designed and engineered in Canada
Instant Layered Masterpieces
DITTO MIC LOOPER lets you go from idea to performance with ease in a flash. One knob, two buttons – it couldn't be simpler! With its superior audio quality, unlimited overdubs and Undo/Redo, DITTO MIC LOOPER is the essential choice for looping vocals and instruments.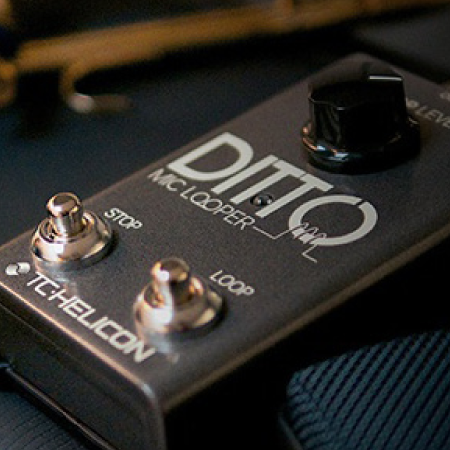 New: Intelligent Mic Gain
Using DITTO MIC LOOPER is exactly like plugging your mic directly into the PA and you only need to set input gain once – at the mixer. No more trial-and-error tinkering to find the optimal balance between input gain on your effects unit and the mixing desk.
It's this Simple...
    •    Press LOOP to record. Press again to play the loop. Repeat for endless overdubs. Hold to undo/redo latest overdub.
    •    Press STOP to stop all loops, press again to restart play from the beginning – or hold it for a quick, noiseless erase.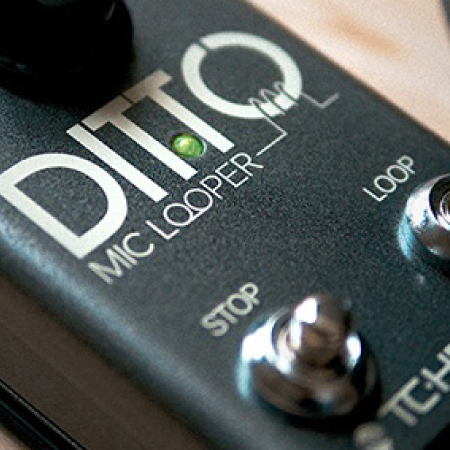 ...and this Versatile
As a singer, beatboxer, horn-blower, percussionist or string-player, the power and musical ease of DITTO MIC LOOPER simply cannot be overstated. Even the faintest musical idea can be explored, built up, torn down and just plain enjoyed in private, practice or performance.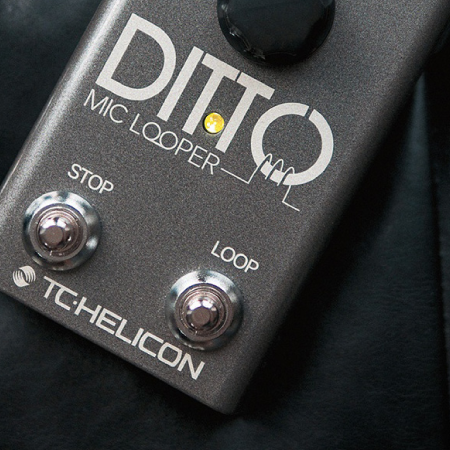 The Magic of Two Switches
The dedicated STOP switch on DITTO MIC LOOPER lets you pause your loop exactly where you want, without having to double-tap to stop and fudge your timing – as with some competing loopers. This means your LOOP button is totally focused on your looping creation with Record/Play/Overdub functions.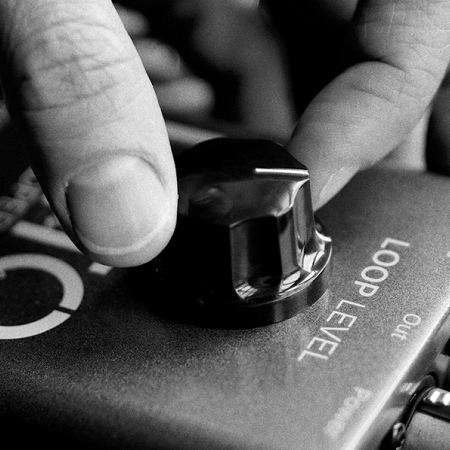 Pure Looping – Without the Fluff
Intelligent Mic Input Gain for Quick and Painless Setup
Built In Mic Control, Infinite Overdubs and Loop Storage
Intuitive LED Indicator for Modes and Dedicated Loop Switches
Quiet Mic Preamp with Phantom Power, Balanced XLR Out, Power & USB for Updates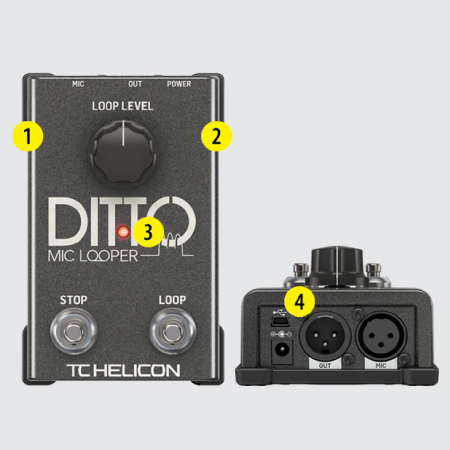 Chain FX into Your Loop
You can use DITTO MIC LOOPER with other vocal processors like TC HELICON's Harmony Singer or Mic Mechanic. Add effects into the chain before DITTO MIC LOOPER to alter the sound of your loop and even change sounds between layers. Or, add your effects to the chain after DITTO MIC LOOPER to sonically change your loop at any moment.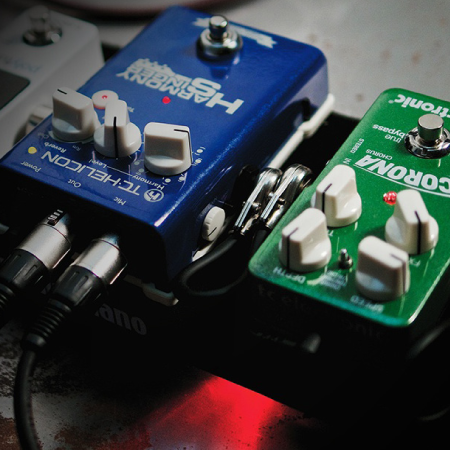 Under the Hood
DITTO MIC LOOPER carries with it the high-fidelity hallmark of the entire DITTO family – 24-bit uncompressed (and uncompromised) audio. Paired with a great-sounding mic preamp and phantom power to boot, you are free to use any of your favorite dynamic and condenser mics.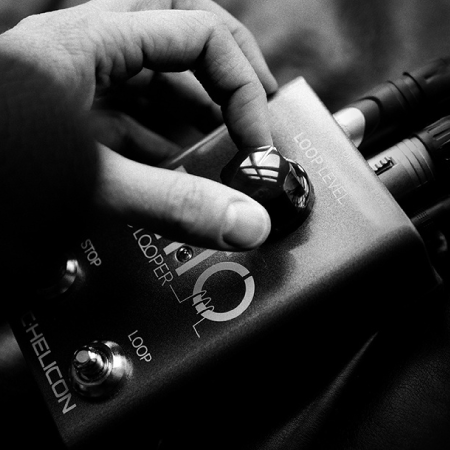 More Mic, More Control
You can completely control DITTO MIC LOOPER from your mic – simply plug in a TC HELICON MP-75 microphone or Sennheiser e835 FX (both sold separately). We call it Mic Control™, and it allows you to command both the stage – and the audience!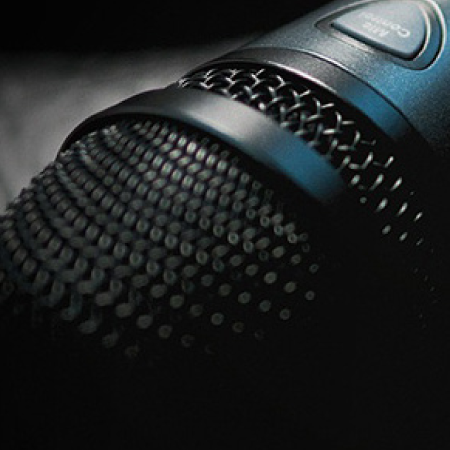 Specification
Design
Size
Height: 5.4 inches (140 mm)
Width: 3.5 inches (90 mm)
Depth: 2.3 inches (60 mm)
Weight
Weight: 0.92 lb. (0.42 kg)
Construction
Two part dies cast metal
Rubberized base
Connections
Analog Inputs
Input Connector: XLR Female, balanced
Input Impedance: 2.7 kOhm balanced
Maximum Input Level: -1 dBu
Signal to Noise Ratio: 112 dB A-weighted
Phantom Power: 32V (always on)
Analog Outputs
Output Connector: XLR Male, balanced
Output Impedance: 250 Ohms balanced
Maximum Output Level: -1 dBu
Dynamic Range: >104 dB, 20 Hz to 20 kHz
Frequency Response: +0/-0.3 dB, 20 Hz to 20 kHz
Control
USB for firmware and control
Mic Control using TC Helicon MP-75 Microphone or Sennheiser e835 FX mic
Safety And Regulations
Power
Power Supply (Supplied): 12V .4A
Power Consumption: 5.6W
Safety
EMC – Complies with EN 55103-1 and EN 55103-2 FCC part 15, Class B, CISPR 22, Class B
Safety – certified to IEC 65, EN 60065, UL6500 and CSA IEC 65, EN 60065, UL6500 and CSA
Environment
Operating Temperature: 32°F to 122°F (0°C to 50°C)
Storage Temperature: -22°F to 167°F (-30°C to 70°C)
Humidity: Max. 90 % non-condensing
What's in the box?
Region specific power supply
USB cable
User guide