PRO FADER (200 mm)
Set of 5 High-Endurance, Touch-Sensitive 100 mm Motorised Faders (200 mm Cable)
Touch-sensitive Motorised 100 mm Fader with 200 mm cable for Midas digital consoles
High-endurance up to 1 million cycle lifetime
Premium quality wiper fingers made from Palladium Silver-Copper alloy
Touch-sensitive T-bar and sensor track
High-precision 10 kΩ linear resistive track
Long-life, industry-proven Mabuchi* motor
Replacement for Penny+ Giles* PGFM3200, Alps* K-Fader, etc.
10-Year Warranty Program*
Designed and engineered in the U.K.
PRO SERIES PRO FADER (200 mm)
Not satisfied with the existing motorised fader choices in the marketplace, Midas created the PRO FADER, rated for up to a million cycles – three times that of other leading manufacturers - and providing high linearity, robustness, and smooth feel during operation. This decision yielded many other benefits, including total quality control over the manufacturing process and lower costs that could be passed on to customers.
As a digital console manufacturer, Midas has a perspective on the actual application of motor faders that a component manufacturer would not have. The multi-disciplinary development project combined mechanical design, electronic hardware and software optimisation with a rigorous testing programme and an investment in material science to produce the best possible performance in actual operation in Midas PRO Series consoles. Semi-precious metals are used for the wiper fingers for their hard-wearing properties, and precision resistive tracks were created that off er highly linear positional accuracy, coupled with long-term durability and even response in use.
PRO FADER (200 mm) features a high precision 100 mm travel track with a 10 kΩ linear law, ideally suited to servo control applications. The integrated touch sensing track and conductive T-Bar allow both the implementation of automatic channel selection in software, as well as detection of when the fader is being held so that the motor is not driven. PRO FADER (200 mm) is designed to be mounted to console fascia panels via its two M3 threaded pillars which are on 120 mm mounting centres. A 200 mm long cable is provided which includes connections for the 10 kΩ resistive track, the touch sensing track and the motor.
PRO FADER (200 mm) is supplied as a set of five faders and is suitable for use in the input and output fader bays in all Midas PRO Series digital consoles and control centres. PRO FADER (200 mm) is also a replacement for industry standard parts such as Penny+Giles PGFM3200, Alps K-Fader and other similar 100 mm motorised faders.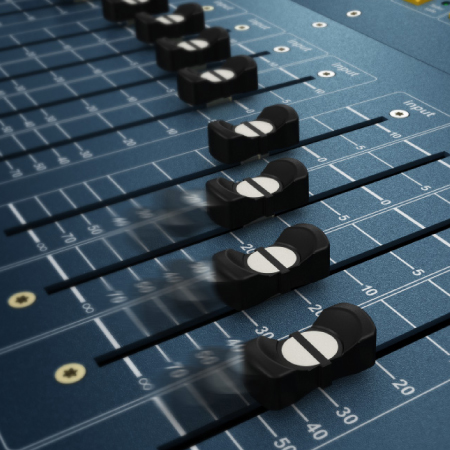 Architecture & Engineering Specifications
The motorised fader shall be intended for use on digital audio mixing consoles and control centres as part of a linear position-sensing servo circuit.
The motorised fader shall have an operational lifetime of up to 1 million cycles.
The motorised fader shall have a 10 kΩ ± 20% linear law track with ± 2% linearity.
The motorised fader shall have 100 mm travel.
The motorised fader shall use wiper fingers manufactured from Palladium Silver-Copper alloy.
The motorised fader shall have a touch sensing track which is connected to a conductive T-Bar fixing via a set of wiper fingers. 
The motorised fader shall use a Mabuchi FF-050SB-09250 motor.
The motorised fader shall have a cable loom of nominal length 200 mm, terminating in a 6-way Molex 22-01-2065 connector shell fitted with 08-50-0031 crimps.
The motorised fader shall have overall dimensions 150 mm length x 13 mm width x 47 mm high (5.9" x 0.5" x 1.9").
The motorised fader shall have M3 threaded pillar fixings on 120.0 mm (4.7") fixing centres.
The motorised fader shall be the Midas PRO FADER (200 mm) and no other alternative shall be acceptable.
Specification
System
| | |
| --- | --- |
| Fader travel | 100 mm |
| Track resistance | 10 kO ± 20% |
| Track law | Linear |
| Track linearity | ± 2% |
| Mounting thread | M3 |
| Mounting centres | 120 mm |
| Motor | Mabuchi FF-050SB-09250 |
| Motor drive voltage | 8 V nominal |
| Connector | 6 way 2.54 mm (0.1") latching connector (Molex* 22-01-2065 connector shell with 08-50-0031 crimps) |
| Cable length | 200 mm |
| Connections | 1 - Grey - Touch Sense 2 - Blue - 0% Travel 3 - Yellow - Wiper 4 - Red - 100% Travel 5 - Black - Motor (-) 6 - Red - Motor (+) |
| Dimensions | 150 mm length x 13 mm width x 47 mm high |