DP48MB
Mounting Bracket for Midas DP48 Personal Monitoring Mixer
Mounting bracket for Midas DP48 Personal Monitoring Mixer
Attaches to standard mic, music or drum stands
Dual headphone hangers and integrated cable guide
DP48MB
The Midas DP48 system is the easy, affordable way to provide live or recording musicians/vocalists what they really want – their very own custom-tailored monitor mix. DP48 Personal Monitoring Mixers let each performer take control of their own monitor mixes, allowing the engineer to concentrate on providing the audience the best possible listening experience. But to get the most out of your DP48 mixer's capabilities, it needs to be located where they can do the most good – within arm's reach of the artist. That is where the DP48MB comes in, allowing your DP48 Personal Monitor Mixer to be mounted on mic or music stands, drum hardware, or any other place your imagination leads you. The DP48MB even provides dual headphone hangers and an integrated cable guide to keep everything needed at the ready.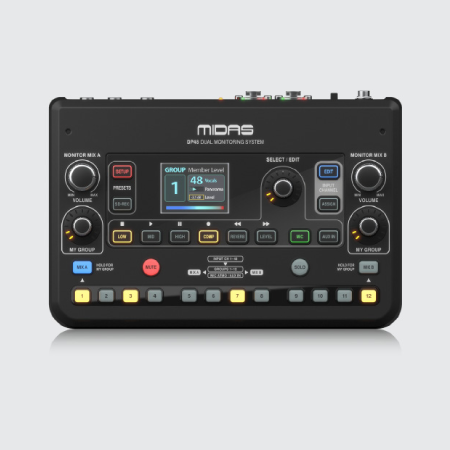 Unparalleled Personal Monitoring
By putting dynamic control over virtually all elements (Volume, Pan, Solo & Mute) of up to 48 input signals within each performer's reach, the DP48 Personal Monitoring System provides the easy and affordable way to give them exactly what they want – "more me"! Put your DP48 mixers at the performer's fingertips today with the DP48MB – and experience an unparalleled solution to live and studio personal monitoring.