DP48
Dual 48 Channel Personal Monitor Mixer with SD Card Recorder, Stereo Ambience Microphone and Remote Powering
Dual 48 channel personal monitor mixer compatible with Midas personal monitoring system hubs
12 stereo groups enable rapid creation and balancing of personal mixes from fully configurable stem groups
Dual mix feature allows independent control of two complete monitor mixes
Integrated SD card interface for stereo recording and playback of rehearsal sessions and performances
Built-in stereo ambience microphone provides on-stage sound feed to remove sense of isolation with in-ear monitors
Studio-quality reverb adds spatial ambience to personal in-ear mixes, independent from main console
Remotely powered via direct AES50 connection from Midas hubs featuring Power over Ethernet (PoE)
Separate DC power supply allows daisy-chaining of DP48 personal monitor mixers and use without any PoE hub
Compatible with any 44.1/48 kHz AES50-equipped devices including Midas and Behringer digital consoles and I/O boxes
AES50 return channels allow personal mixes to be sent back to the console or hub for connection to wireless IEM transmitters
Remote operation up to 100 m via screened CAT5/5e cable
Remote setup and control of DP48 personal monitor mixer via Midas hubs
Full remote control of another DP48 when both connected to the same hub or used in daisy chain configuration
High-contrast 2.4" colour TFT display screen provides clear overview of mix parameters, meters and group assignments
Analogue stereo auxiliary input for local click track
High power headphone output for use in all stage monitoring environments
Fully adjustable limiter allows for safe monitoring levels within sound exposure limits
Mounts securely on microphone stand with DP48MB adaptor (not included)
Personal Monitor Mixing Redefined
The Midas DP48 is a dual 48 channel personal monitor mixer that allows 2 performers to fully control their monitor mixes and hear exactly what they want and even record and playback rehearsals and performances. With a simple and intuitive interface and the ability to connect to any AES50-equipped device, the DP48 can create a complete monitoring system perfect for use in the studio or on stage.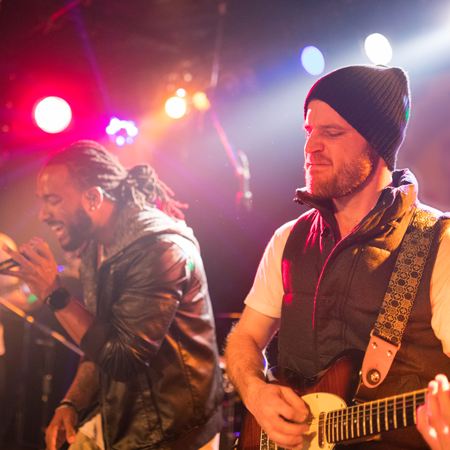 Your Mix, Your Way
The DP48 gives performers complete control over their monitor mix with 12 stereo groups for quickly creating and balancing mixes. All 48 channels of the DP48 can be mixed within these 12 groups and can handle any kind of monitor set up. Vocalists, for example can place the vocal channel in Group 1 while the drums, bass and guitar channels can be placed in Groups 2,3 and 4 respectively. Drummers who may be more particular can create more complex mixes with the DP48; separately mix their kick, snare and hi hat in Groups 1-3 with the two overhead mics panned left and right in Group 4.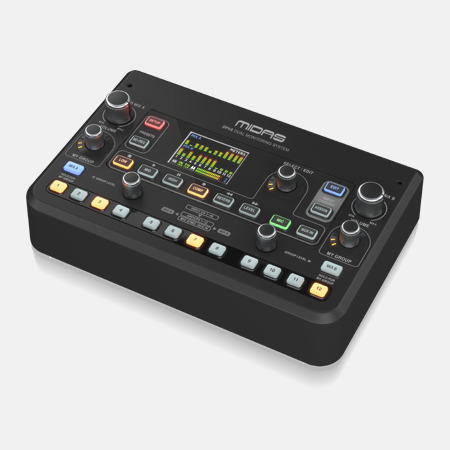 Dual Stereo Mixes
The dual mix feature even allows two users to be connected to one DP48 each with their own separate stereo group mix. There are three dedicated controls for each of the Mix A and B outputs, providing independent adjustments for the respective Output Volume, the selected Group Level and for the assignable My Group Level. Both Main Mixes feature separate EQ, Reverb Level and Limiter settings—especially useful when both talents are using different in-ear or over-ear headphones.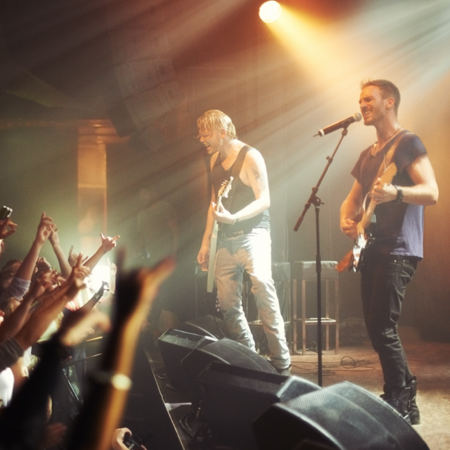 Control and Much More
Each group in the DP48 features its very own 3 band EQ, compressor and reverb which can be controlled with one knob. Just press a button and adjust the parameter using the SELECT/EDIT knob. The low, mid and high parameters increase or attenuate their respective frequencies for each group. The compressor setting controls a selected group's compression as well as Mix A or B's peak limiting threshold. Studio-quality Reverb can be added to a selected group or mix to add more spatial ambience to a personal monitor mix independent from the main console. The Pan button allows users to adjust the panorama of a selected group.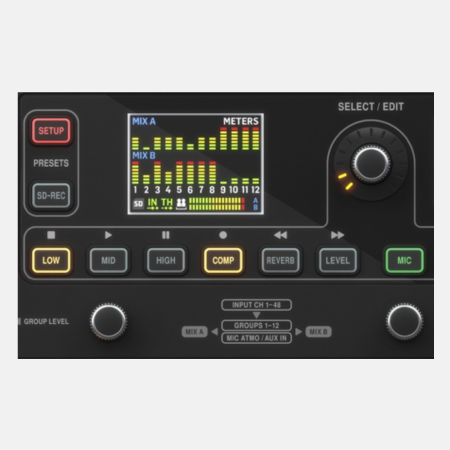 SD Recorder and Presets
The DP48 can also accept an SD card to be used for recording rehearsals or performances. Recorded mixes can be played back to Mix A or Mix B. Recording features a mix-minus function, deducting the respective My Group signals, for use as a backing track when practicing.
You can also store complete mixing presets to SD and load them back when using a different DP48 mixer.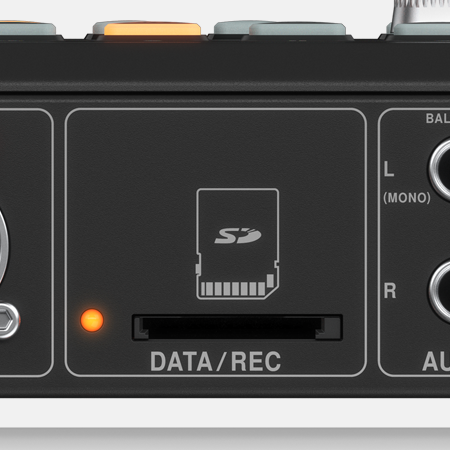 Built in Mic
A performer wearing in-ear monitors can sometimes feel isolated. That's why the DP48 comes with a built-in stereo ambience microphone that helps performers hear more of the room around them or communicate with each other and even hear more of their audience.
An automatic ducking function attenuates the microphone while the band is playing, in order to keep your mix clean.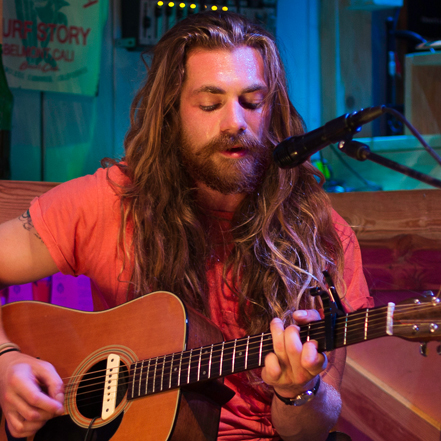 Complete Integration
Every DP48 can be remotely powered via a direct AES50 connection to the Midas HUB4 featuring Power over Ethernet (PoE). Any 44.1/48 kHz AES50 device including Midas and Behringer digital consoles and I/O boxes are compatible with the DP48. AES50 return channels also allow personal mixes from the DP48 to be sent back to the console or hub for connection to wireless IEM transmitters. Even input channel labelling and colour information can be transmitted to the DP48 via AES50. When connected to a Midas hub, the DP48 can be setup and controlled remotely from the mixer.
The Midas M32 firmware update 4.0 supports full configuration of personal mixer channel assignments and Group names directly from the console user interface. DP48 is the first solution to fully integrate channel grouping into a digital console surface, where all the channel routing is configured.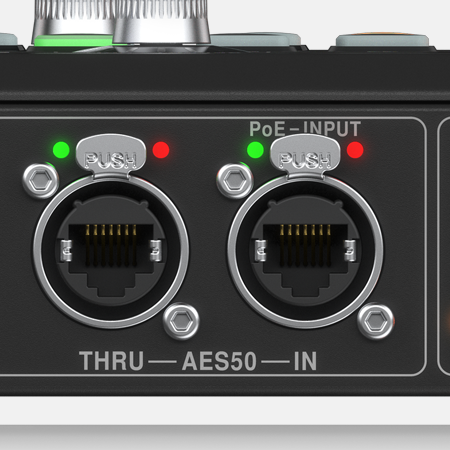 Remote Control
In addition to the remote configuration from compatible FOH or monitoring consoles, any DP48 mixer can also fully control one or several other DP48 mixers on stage, for concurrent changes. A stage tech can remotely assist whenever a performer needs help with his personal mix.
Remote control can be passed on via the Midas HUB4 or when daisy-chaining DP48 mixers.