2.4 GHz Wireless Stereo Transmitter for High-Performance Stereo Audio Broadcasting
Stereo transmitter to wirelessly stream audio (together with separate DW 20R)
Perfect for hospitality and event spaces, retail and home audio, etc.
Able to broadcast to multiple receivers (not included)
Digital 2.4 GHz wireless connectivity offers superior sound quality
High headroom design offers superior sound quality
Maximum wireless range 100 feet (30 m)
External, articulating antenna ensures optimum transmission and reception
Aluminium extrusion casing with protective rubber corners
Floor and wall mount brackets for fixed installation (included)
High quality Neutrik* XLR and 1/4" TRS connectors
2.4 GHz ISM band operation allows license-free use on a worldwide basis
Compact and rugged design
10-Year Warranty Program*

Designed and engineered in the U.K.
AIR LINK DW 20T
When used in conjunction with DW 20R Wireless Receivers, the AIR LINK DW 20R Wireless Stereo Transmitter brings the convenience of high-performance audio-streaming to any installed or portable sound system, making it ideal for hospitality and event spaces, as well as retail, home audio, and much more. Featuring a maximum wireless range of 100 feet (30 m), DW 20R is easy to use and utilises premium-grade Neutrik balanced XLR and unbalanced 1/4" TRS connectors to cover a wide range of audio applications.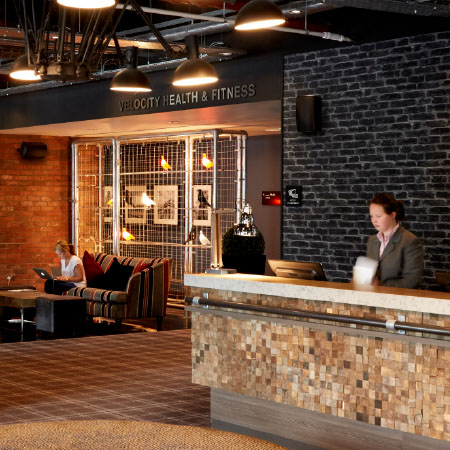 Superior Performance
Thanks to its high headroom design, the DW 20T transmitter provides pristine audio streaming that is far superior to competing products. Care has been taken in both the design process and component selection to ensure the highest-quality performance in its class.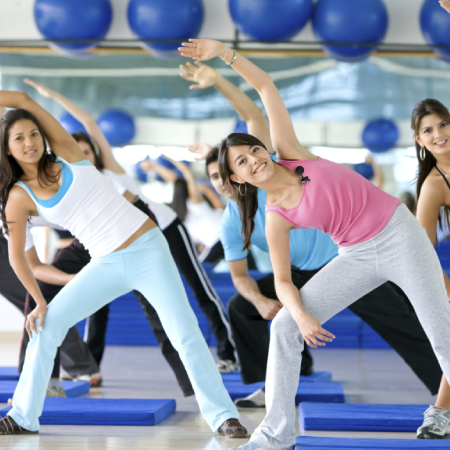 Maximum Range and Flexibility
Aided by an external articulated antenna, the DW 20T is designed to provide dependable transmission over an astounding range of up to 100 feet (30 m). Multiple receivers can be deployed to provide targeted zone broadcasting, as long as each DW 20R is paired with only one DW 20T device at a time – allowing unique content to be streamed concurrently across each of the individual zones.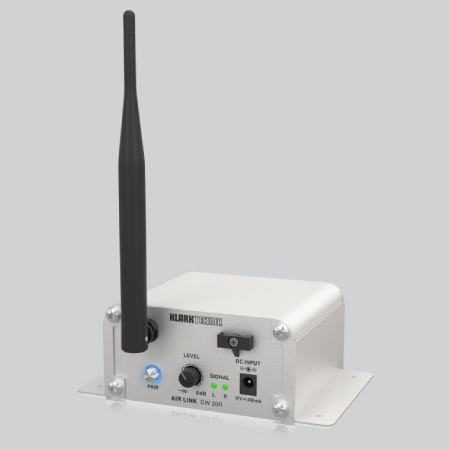 Robust Construction
Housed in a compact and rugged aluminium extrusion enclosure, the DW 20T transmitter can be permanently installed via the included floor/wall mount brackets, or placed securely on a shelf thanks to its rubber corner protectors. Connectivity options include high quality Neutrik* XLR and 1/4" TRS input sockets, ensuring a crystal-clear signal path to professional mixers, amplifiers, or powered loudspeakers.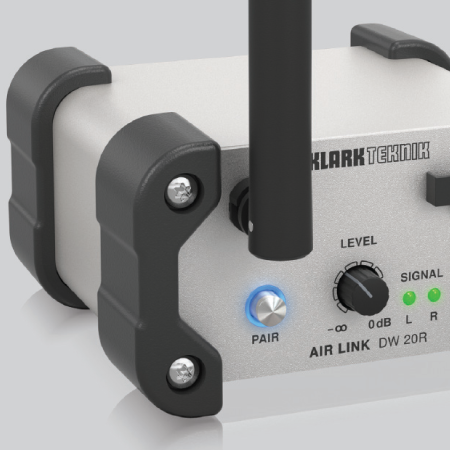 Single Streaming Solution
Engineered by the Award-winning Klark Teknik design team, the DW 20T is sublimely easy to use – and is the single audio streaming solution for a broad variety of applications.