In 2018, a group of skilled engineers who had developed and innovated the electronic drum category for the last 20 years decided to pursue a different path. A fluid approach to developing electronic drums was needed, after feeling the limits of working for a leading Japanese musical instrument manufacturer. A place where they could throw the constraints of cost and mass production out the window.
IF YOU WANT THE BEST ELECTRONIC DRUMS, YOU'VE COME TO THE RIGHT PLACE!
---
The new EFNOTE 5 provides the truest playing experience available today. SEE, FEEL and HEAR the next-gen in Electronic Drum Kits for yourself.
Don't Bark, Bite...

Using Tru-Aco™ technology, this bop sized kit can have you rocking Madison Square Garden, in your living room.

 

 

Why So Sensitive?

The newly developed ELISE™ sensing processor provides a low latency, wide dynamic-range, that is as consistent and solid as Steve Gadd. Well, almost. Nothing is as solid as Steve Gadd.

 

It's All In the Touch... Screen

You can change kits, edit sounds and modify your setup with EFNOTE's low profile touchscreen. As intuitive as it is simple, let your fingers quickly walk you through this meat and potatoes module. You'll love how easy it is to use.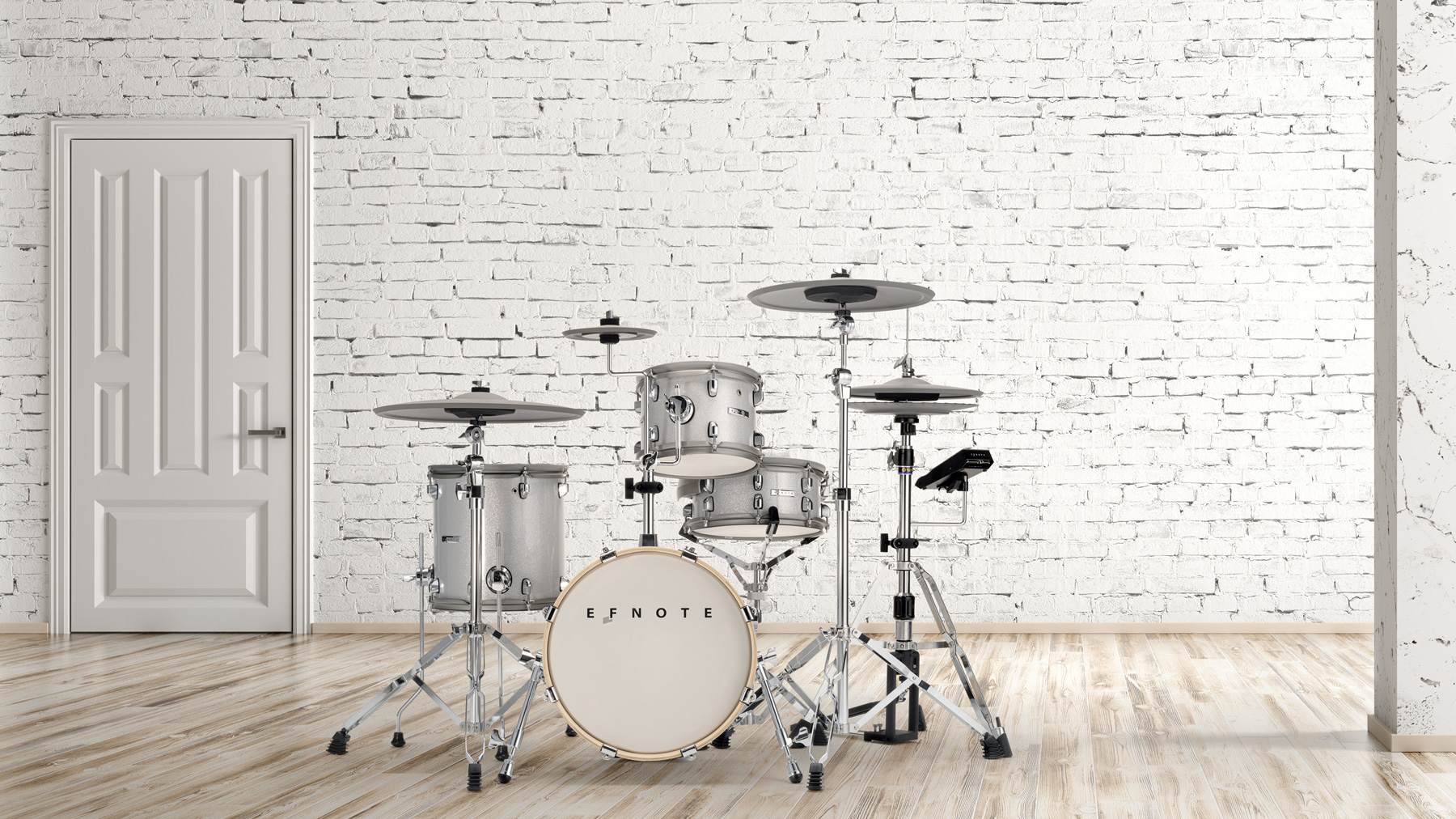 FEATURES
Tru-Aco Stereo Sampled Sounds

Tuning/Muffling/EQ - Threshold/Sensitivity/Curve for Each Pad

"Virtual Pad" Function for Sound Layering

18" Ride, 16" Crash, 14" Hi Hats and

 

8" Splash!

ALL 360° CYMBALS, 3-Zone

 

Ride and Crash, 2-Zone HH

Full 6 ply Birch shells

Close to Zero Latency, Extremely Realistic Stroke Response and Feel

Bop Sizes -

 

16" kick, 12" Snare, 10" Rack Tom, 12" Floor Tom

Low Profile Touchscreen Module

8 Channel USB Audio Output

(ASIO) Multi-Track MIDI Recording

Flexible I/O Routing with GUI

Individual Click Output

4 Channels Analog of Output

Set List Function for Live Performance

Stroke Analysis Function for Practice

Recorder Function

On-Board Micro-Speaker for Metronome
SPECS
Audio / MIDI
Line (1/2) Output (2x TS)

Phones (3/4) Output (Stereo Mini) Audio Input (Stereo Mini)

USB 8-ch Audio Output

USB 2-ch Audio Input

USB MIDI In/Out

Bluetooth Audio Input

Bluetooth MIDI In/Out

MIDI Output (5-pin)
Sound
Full-Scale Vintage Acoustic Drum Sounds

Tru-Aco™ Sound Technology for Wide Dynamic Range and Natural Sounding

Focusing All Resources on the Quality of Sounds and Trigger Quality

Hi-End DAC & High Grade Electronic Components
Performance
ELISE™ Sensing Processor for Capturing Player's Intention

High Speed Sensing and Triggering

Tuning/Muffling/EQ

Threshold/Sensitivity/Curve

Sound Layer Function

Set List Function

Stroke Analyzer

Full 6 ply Birch Shells

Touch-Screen Interface
INCLUDES
Sound Module
Kick: 16x12"
Snare: 12x5"
Floor Tom: 12x12"
Tom: 10x8"
Ride: 18"
Crash: 16"
Splash: 8"
Hi Hat: 14"
Cables
BROCHURE:  https://artesia-pro.com/wp-content/uploads/2020/10/EFNOTE-5-Higher-Res.pdf
QUICK START GUIDE:  https://artesia-pro.com/wp-content/uploads/2021/03/EFNOTE-5-Quick-Guide.pdf
REFERENCE GUIDE:  https://artesia-pro.com/wp-content/uploads/2021/03/EFNOTE-Reference-Guide.pdf