In 2018, a group of skilled engineers who had developed and innovated the electronic drum category for the last 20 years decided to pursue a different path. A fluid approach to developing electronic drums was needed, after feeling the limits of working for a leading Japanese musical instrument manufacturer. A place where they could throw the constraints of cost and mass production out the window.
IF YOU WANT THE BEST ELECTRONIC DRUMS, YOU'VE COME TO THE RIGHT PLACE!
---
Making it easier than ever to plug in and play, the EFNOTE 3 may just change the way you think about playing gigs, teaching, practicing and recording at home, with next to no noise footprint. Your loved ones, session mates, students and NEIGHBORS will love you for it.
Tru-Aco™

Tru-Aco™ sound technology uses minimal processing power to provide ultra-real stereo samples, letting you get lost in the feeling from the first note.

So, So Sensitive

Each pad carries multiple sensors for the most sensitive of players. From straight-ahead jazz to bombast, you will not just be felt, you will be heard.

Future Classic Hardware

With their throwback/futuristic design, these tripods actually reduce each element's footprint, allowing you to get in high and tight while emulating the angular setups made popular in the 80's.
Practice / Record / Gigs
USB 8ch audio outputs with ASIOTM; Analog 4ch audio outputs; BluetoothTM audio-In; Training functions + built-in metronome speaker.
360° Flat Sensing, Multi-Zone Cymbals
Weight-simulated, engraved surfaces with a thin edge
Full 3-zone Crash/Ride cymbals (bow/edge/cup) 16" Ride, (2) 14" Crashes
2-zone, 12" Hi-hat.

 

ALL CYMBALS HAVE 360° CHOKE FUNCTION
Monocoque Drum Shells
Monocoque shell design for stiffness and durability
Hot-spot-less sensing with multi-sensor
Flat grey rubber hoop
Double-layered mesh head
2-zone(head/rim) toms (10", 10" and 12")
Suspended Tom Mount
Stroke absorption, creating less rebound to eliminate crosstalk vibration
3 Zone Snare w/ Side-Rim
12" Snare with Head, Rim and Side-Rim
Super accurate, dynamic, multi-zone sensing
Eliminates function-switching for side stick playing
Sturdy, Comfy Kick
Dual-sensors to accommodate double pedals
Solid and simply designed stand w/ spurs
Absorbing, Padded Strike Zone
Tru-Motion Hi-Hat
Inertia-based weight simulation provides a totally realistic feeling pedal
Optical sensing responds precisely, even to the highest speed footwork
Open-Close stroke gap and spring tension adjustment
Super smooth action from closed-tight to wide-open
Full-Scale Acoustic Sound
Tru-Aco™ sound technology provides true to life, ultra clean stereo samples
Super dynamic, uncompressed acoustic drums and cymbals that are minimally processed
ELISE™ Sensing Processor
Super low latency with a wide dynamic range
Multi-sensor placement that eliminates hot spots for super smooth response
Low Profile Module
Ultra-small form factor with un-compromised features
Metal chassis and aluminum finish
High quality DAC and audio circuitry
Intuitive Touch Screen user interface
For Small Gigs
Setlist feature enables you to configure kit order with tempo for each song
4 output channels of analog, or stereo outs to the soundboard
Click and Audio-In can be assigned to headphones-only, if needed
High-power headphones output.
For Recording
USB Plug and Play 8-ch audio outs w/ USB MIDI simultaneously
USB 2-ch audio inputs for playback
Analog 4-ch audio outputs
Analog Stereo outputs
USB 5 pin DIN I/O
For Training
Multi-function metronome with beat LED indicator
Built-in metronome speaker for practicing without headphones
Rhythm Box feature provides over 90 basic drum beats
On-board recording function (5 songs)
λ (Lambda) Tripods
Ultra stable, light weight and versatile stands
Space effective, Future/Classic design
Stroke Analyser
"Stroke Scope" displays your strike points using notation
"Accuracy Score" estimates your strike accuracy
Fun to test your accuracy as you progress
Sound Edit
Tuning/Muffling/EQ for each pad/sound
Threshold/Sensitivity A,B & C /Curve for Each pad
Pan/Ambience/Reverb for each individual sound
Sound Layering for every trigger zone using "Virtual Pad"
Storage for hundreds of customized sounds
Sound Edit
Tuning/Muffling/EQ for each pad/sound
Threshold/Sensitivity A,B & C /Curve for Each pad
Pan/Ambience/Reverb for each individual sound
Sound Layering for every trigger zone using "Virtual Pad"
Storage for hundreds of customized sounds
Bluetooth™
Bluetooth audio-in provides you to play along with Spotify™ / YouTube™ with your smartphone
Bluetooth MIDI In/Out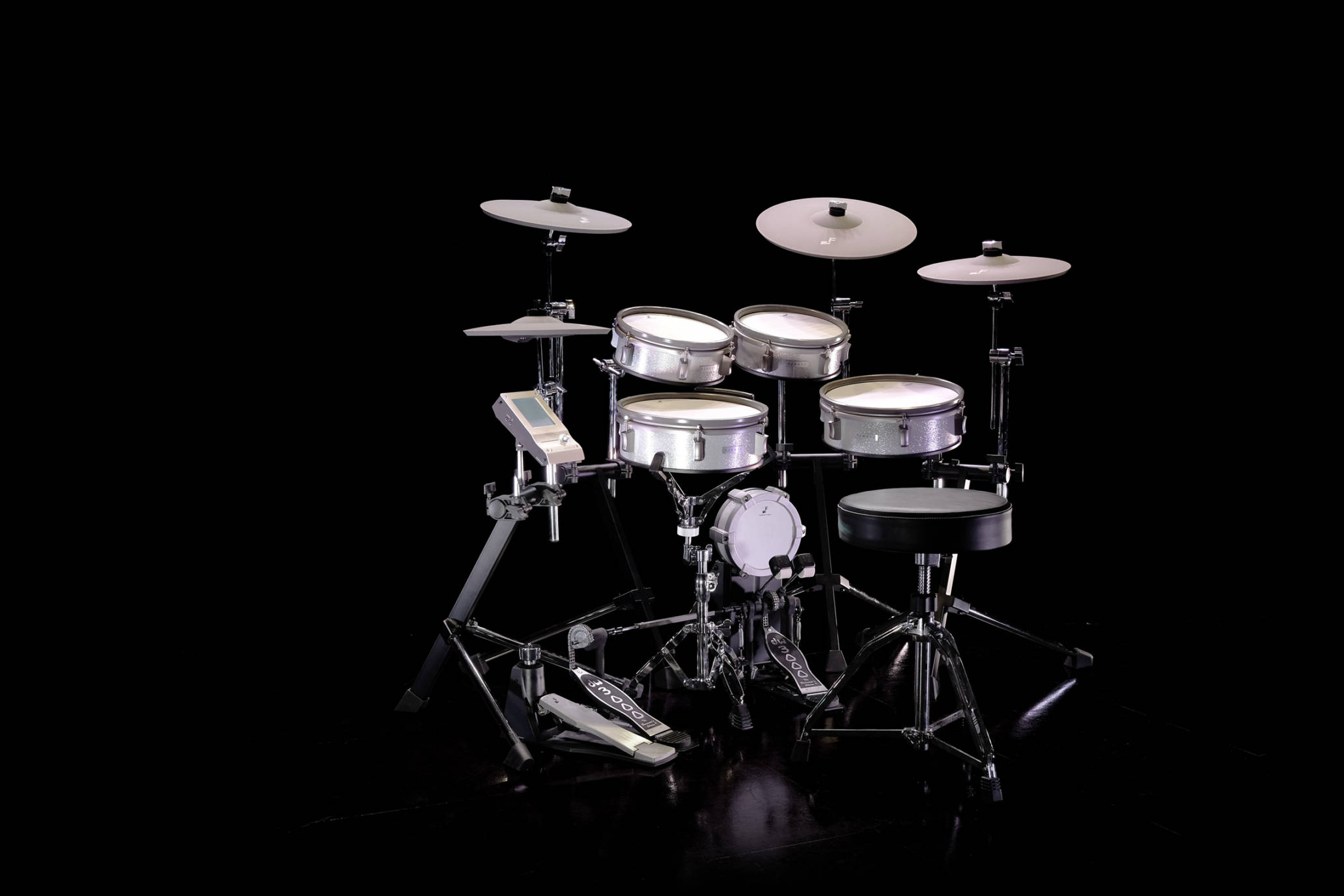 FEATURES
Tru-Aco Stereo Sampled Sounds

Tuning/Muffling/EQ for Each Pad

"Virtual Pad" Function for Sound Layering

Quick Pad Level Adjustment by Mixing Window

8 Channel USB Audio Output

(ASIO) Multi-Track MIDI Recording

Flexible I/O Routing with GUI

Individual Click Output

4 Channels Analog of Output

Set List Function for Live Performance

Stroke Analysis Function for Practice

Recorder Function

Metronome with On-Board Speaker
SPECIFICATIONS
Audio / MIDI
Line (1/2) Output (2x TS)

Phones (3/4) Output (Stereo Mini) Audio Input (Stereo Mini)

USB 8-ch Audio Output

USB 2-ch Audio Input

USB MIDI In/Out

Bluetooth Audio Input

Bluetooth MIDI In/Out

MIDI Output (5-pin)
Sound
Full-Scale Vintage Acoustic Drum Sounds

Tru-Aco™ Sound Technology for Wide Dynamic Range and Natural Sounding

Focusing All Resources on the Quality of Sounds and Trigger Quality

Hi-End DAC & High Grade Electronic Components
Performance
ELISE™ Sensing Processor for Capturing Player's Intention

High Speed Sensing and Triggering

Tuning/Muffling/EQ

Threshold/Sensitivity/Curve

Sound Layer Function

Set List Function

Stroke Analyzer

Touch-Screen Interface
Expandability
3rd Crash Cymbal and 4th Tom Support
INCLUDES