T9 In-Ear Monitors
●  Dual balanced-armature drivers
●  Hand-assembled
●  Sound-isolating earphones
●  3.5 mm earphone jack, compatible with all systems
●  Carrying case and cleaning tool included
●  Durable, replaceable cables
U4 Complete System
High-quality, ultra-compact wireless system for in-ear monitors
Audiophile 24-bit / 48 kHz sound with less than 5 ms of latency
Industry standard 2.4 GHz wireless technology
Reliable, solid RF connection over a range of 90 feet
Can also wirelessly broadcast to an audio recorder or mixer
SOUNDS GOOD
The T9 is endowed with two balanced-armature Knowles drivers: one of the industry's largest and most powerful mid-bass drivers, and a custom-tuned, custom-ported micro tweeter. Along with a custom unified crossover, these cutting-edge components have the headroom to accommodate whatever EQ adjustments any user may desire. Nonetheless, T9 comes perfectly balanced, with a responsive and detailed sound signature that is not overly hyped or colored—so audiophiles will enjoy a fulfilling listening experience right out of the box.
HIGH-PERFORMING
T9 is an invaluable tool for performing live musicians, and is also perfectly suited to in-studio tracking and mixing.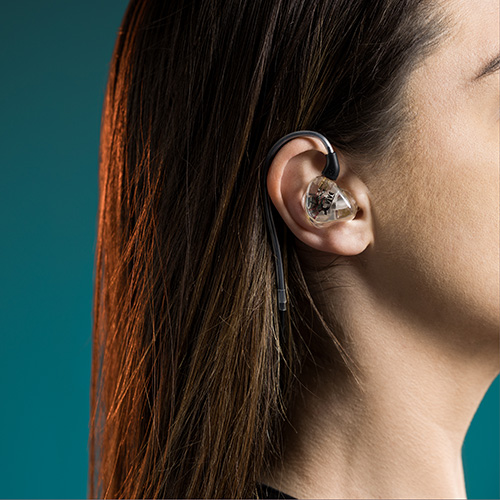 WIRELESS MONITORING
T9 IEMs pair perfectly with Xvive's U4 In-Ear Monitor Wireless System, providing musicians with unbeatable wireless monitoring value for live performance and studio applications. T9 and U4 are sold together as a set called U4T9.
WHAT'S IN THE BOX
T9 comes with three sizes of earbuds, in red and yellow silicone (using a different color for each side helps you identify right and left) and black memory foam options. There's also a cleaning tool, an 1/8″-to-1/4″ adapter, and a hardshell carrying case!
Specifications
FREQUENCY RESPONSE

20 Hz - 16.5 kHz +/- 3 dB

IMPEDANCE

59 ohms @ 1 kHz

SENSITIVITY

120 dB @ 1 kHz

TOTAL HARMONIC DISTORTION (THD)

< 0.2% @ 1 kHz

MAGNETIZED FIELD STRNGTH

160 cm (48")

OPERATING TEMPERATURE

-5°C to +50°C

STORAGE TEMPERATURE

-20°C to +70°C